NOAA GESTAPO AGENT ATTACKS JET SKIERS
RUTHLESS GESTAPO NOAA AGENT ROBERT YERENA ATTACKS JET SKIERS AT MAVERICKS SURF SPOT. AGENT YERENA, WHO WORKS AT MONTEREY NOAA OFFICE, WENT OUT OF HIS WAY TO TRAVEL TO HALF MOON BAY JUST TO HARRASS AND ISSUE TICKETS TO JET SKIERS WORKING ON THE SET OF THE MOVIE "OF MEN AND MAVERICKS" THIS GESTAPO AGENT MOBILIZED SAN MATEO COUNTY SHERIFFS OFFICERS, DEPARTMENT OF FISH AND GAME, AND HARBOR PATROL OFFICERS. ROBERT YERENA TIED UP NUMEROUS RESOURCES INCLUDING VEHICLES, BOATS, AND EVEN A HELICOPTER! THOUSANDS OF DOLLARS WERE WASTED. UNLIKE ROBERT YERENA, THE JET SKIERS WERE ACTUALLY PERFORMING A VITAL FUNCTION OF SAVING THE LIVES OF SURFERS WHO HAD FALLEN OFF THEIR BOARDS WHILE RIDING DANGEROUS WAVES. JET SKIERS SAVED ACTOR GERARD BUTLERS LIFE AT THIS LOCATION JUST DAYS EARLIER.WRITE YOUR LEGISLATORS TO DEMAND A CONGRESSSIONAL INVESTIGATION AND PROSECUTION OF ALL NOAA AGENTS VIOLATING THE LAWS OF THE USA.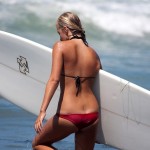 Become A Sponsor!
If you have a product or service that is a good fit for our surf community, we have opportunities for you to sponsor this blog!
Download our media kit now!