VIA – LEDGER INQUIRER
NOAA listing Gulf dolphin death information on website
By Karen Nelson — Sun Herald
Posted: 6:14pm on Apr 2, 2012; Modified: 7:52am on Apr 3, 2012
GULFPORT, Miss. — NOAA Fisheries has responded to the cry for information in this year's string of dolphin deaths in the northern Gulf that includes 59 stillborn or infant calves.
A page on its website now details the plight of dolphins and whales in the Gulf since February 2010 with graphs and charts comparing the deaths to previous years. The numbers update weekly.
This is happening as NOAA begins taking possession of the samples collected from the baby dolphins by local groups. NOAA will handle the testing and release of any results in the unusual deaths, which has also triggered concern among scientists and attorneys that there is a lack of transparency in the handling of the samples.
There is also concern that the results of necropsies and other tissue tests won't be released to the public.
In a letter last month, NOAA Fisheries warned the locals who are authorized to collect dolphin samples that they are not to send tissue for independent testing or discuss findings without NOAA permission. The letter cited the "active criminal investigation associated with the oil spill." Kim Amendola, with NOAA Fisheries, said the web page is about two weeks old.
"The Frequently Asked Questions just went up today. The table at the top went up today," she said. The bar graphs and tables will update weekly, she said, but the historical data won't change.
A spokesman with the National Wildlife Federation announced the web link in an e-mail Tuesday.
"We've been tracking dolphin deaths in the Gulf this year and have been frustrated at the lack of information released to this point," said Miles Grant with the NWF. "However, today we found what looks like a new NOAA website with extensive data on dolphin deaths.
"I'm not clear when this page went live or how often it's been updated. There's nothing about it in the NOAA newsroom," Grant said. "In any case, we're glad to see it."
Grant said the federation's senior scientist, Dr. Doug Inkley, was digging into the information.
"If NOAA is going to be releasing this data themselves, that's positive," Grant said. "We were so frustrated that we weren't getting answers, we were wondering if we'd need to file a Freedom of Information request."
The web page charts the numbers of stranded bottlenose dolphins of all sizes and compares those numbers by month to the numbers in 2010 and also to an average of deaths in each month from 2002 to 2009.
The difference is striking. The spikes are easy to see…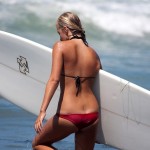 Become A Sponsor!
If you have a product or service that is a good fit for our surf community, we have opportunities for you to sponsor this blog!
Download our media kit now!