This is insane! $2500.00 total bs…since when did NOAA turn into a group of fascist jerk offs.
VIA – SANTA CRUZ PATCH

Photo: Surfer Jeff Martin, who was fined for using jet ski at Moss Landing. Credit Jeff Yerley
NOAA Raises Fine for Santa Cruz Tow Surfers
A uniformed officer served papers to surfer Jeff Martin, raising his fine from $500 to $2,500 for using a jet ski out of bounds.
By Brad Kava
5:00am
The Santa Cruz tow surfers who were fined $500 in March for allegedly using a jet ski out of bounds at Moss Landing, had their fine increased to $2,500 Wednesday.
The National Oceanic and Atmospheric Administraion sent a uniformed officer to surfer Jeff Martin's Santa Cruz house to give him notice of the increased fine and tell him he had 30 days to fight it.
Martin and surfing partner Scott Jarrett have gone public in local media complaining that the NOAA limits on jet skis were unscientific. They claim the area where the vehicles are permitted at Moss Landing, leads right to where marine mammals go to escape big waves, not to the waves themselves.
NOAA put out a press release Wednesday about the raised fine saying that it went to $2,500 because NOAA's attorney Paul Ortiz believed that Martin "intentionally violated the regulation."
The release says:
"Both men were initially issued reduced fines of $500 each through NOAA's Summary Settlement program. Summary settlements are used by NOAA's Office of Law Enforcement to address less egregious violations and allow recipients to pay a lower penalty than is recommended by NOAA's penalty policy in lieu of contesting an alleged violation.
"In both cases, the men chose to contest the charges, and the cases were referred to NOAA's Office of General Counsel for review and the assessment of penalties pursuant to the NOAA Penalty Policy."
The release also notes a $1,000 fine to jet ski rider Leo Morelli at Seascape Beach in October, 2010.
"This penalty should send a strong message that we put a high priority on protecting the resources of the Monterey Bay National Marine Sanctuary," said Don Masters, special agent in charge of the Southwest Division of NOAA's Office of Law Enforcement, in the release.
"While we greatly prefer to use education and outreach to gain compliance, at times NOAA must issue penalty assessments in order to protect sanctuary resources."
The release claims that operating outside the proscribed zones could endanger wildlife.
Scott Jarrett argued that spending tax dollars on uniformed officers to deliver the notice and putting out a press release about it was akin to the F.B.I. doing the same for a parking ticket. Jarrett contends that the agency has arbitrarily targeted jet skis with no documentation that they are more hazardous than other boats.
On a recent trip into the permissible area for personal water craft last week, Patch saw and photographed sea lions, otters and whales, and watched tour boats stalking and closely following the giant sea mammals.
The tow surfers say they use the personal water craft because they are the only way to save a life out in the deep water and big waves.
Jarrett also compared NOAA's actions here to the arbitrary and unfair fines levied on East Coast fishermen, documented by reporters and federal investigators.
NOAA has been accused in this Dan Rather report of stockpiling a $100 million asset forfeiture fund and using the money for cash bonuses, personal cars and yachts. Records also showed the agency paid for a judge's trip to Malaysia, accompanied by the NOAA prosecutors who appeared before him in cases.
An investigation by the Inspector General of the Department of Commerce found "law enforcement excesses, vindictive motives and questionable judgment that uncovered scandalous miscarriages of justice leading to cabinet-level apologies last May to 11 individuals and businesses, and reparations totaling more than $600,000," according to this Newsvine story.
CBS reported this story about NOAA fining a fisherman $19,000 for catching 20 codfish over his limit, three years after he caught them, and another fisherman who was fined $27,000 for bad paperwork.
"They just said if I tried to fight it and it goes in front of one of their judges – that I most likely – the fine will be between $120,000-$140,000," fisherman Richard Burgess said.
In a 2009 letter asking for further investigation on NOAA, North Carolina Congressman Walter B. Jones said the Inspector General's report showed that the agency's "civil penalty assessment process is arbitrary and unfair" and its asset forfeiture fund hasn't been audited and "has weak controls." In 2010 he called the asset forfeiture fund controlled by NOAA a conflict of interest.
A second investigation by the Inspector is being considered, according to this report in the Gloucestor Times in Massachusetts:
"NOAA administrator Jane Lubchenco, who operates as an appellate judge in regulatory law cases, decided against punishing any of her subordinates, leading U.S. Sen. Scott Brown to wonder at a Senate subcommittee hearing in Boston this summer, "What does it take to get fired at NOAA?"
For the full story go here:
http://santacruz.patch.com/articles/noaa-raises-fine-for-santa-cruz-county-tow-surfers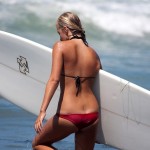 Become A Sponsor!
If you have a product or service that is a good fit for our surf community, we have opportunities for you to sponsor this blog!
Download our media kit now!