VIA – LONGBEACHPATCH


Nothing Taken for Granted at Vigil for Bobis
Friends share lessons learned in wake of surfer's death.
By Joseph Kellard
11:32am
A vigil held for Dan Bobis on Thursday evening, just hours after the surfer's body was found in the ocean off an Indonesian island, was marked by friends taking lessons from his untimely death.
"It's a shame that sometimes you have to lose people to know how beautiful and precious they are," Maurice Mitchell told hundreds who had gathered with candles in their hands, illuminating the dark boardwalk at Laurelton Boulevard.
Mitchell stood on a bench with fellow friends of Bobis who addressed the crowd, talking over the sounds of waves crashing on the shore. Among them was Chris Fry, who wanted mourners to know that the night was not about being sad, but rather about celebrating Bobis' life and his love for everything he did, from surfing to karate to playing the drums in a band.
"I underestimated Danny's impact on people," Fry said about what he has learned since his friend went missing in Sumatra on Sunday morning while on a surfing expedition with his wife, Rachel. "He was my friend and I took that for granted, and I think what we need to realize right now is" — Fry paused to control his emotions — "anyone in your life that you love and care about, do not take it for granted, do not wait a day to tell them how much you care, how much you love them and how much you see the impact that they have on your life. Because you never know."
A lifelong Long Beach resident, Bobis, 32, was a math teacher at Long Beach High School. He formed the school's first surf club and, last year, the first district-sanctioned competitive team in New York State. He worked an advisor to the team and was a co-founder of the Long Beach Surfer's Association.
For the full story go here:
http://longbeach.patch.com/articles/nothing-taken-for-granted-at-vigil-for-bobis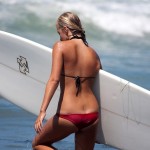 Become A Sponsor!
If you have a product or service that is a good fit for our surf community, we have opportunities for you to sponsor this blog!
Download our media kit now!