A grey nurse shark / Pic: South West Rocks Dive Centre Source: The Daily Telegraph
A MAN bitten by a shark while spear fishing on the NSW mid-north coast has undergone surgery.
Paramedics were called to a boat ramp to meet the man who had been bitten by a grey nurse shark at Green Island off South West Rocks shortly before 5pm on Sunday.
He was taken to Port Macquarie Hospital and underwent surgery on Monday to puncture wounds on his leg and is expected to make a full recovery.
Fish Rock Dive Centre instructor Jake Wilton, who dives with grey nurse sharks daily in the Green Island critical habitat area, said they were placid.
He said the man who was attacked had a dead fish attached to his weight belt, which attracted the shark.
"It wasn't an attack, the shark was just hungry," Mr Wilton said.
"I dive with the sharks every day and I've never had a problem.
"Spear fisherman need to make sure they attach dead fish to floatlines, not to their weight belts.
"Otherwise it's like dangling a sausage in front of a hungry kookaburra."
Source:
http://www.theaustralian.com.au/news/nsw-beach-closed-after-shark-attack/story-e6frg6n6-1226528806287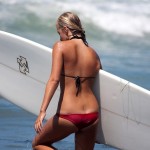 Become A Sponsor!
If you have a product or service that is a good fit for our surf community, we have opportunities for you to sponsor this blog!
Download our media kit now!