I will get this issue purely for research data…
VIA – USA TODAY


Photo: Stephanie Gilmore
By Gaizka Iroz, AFP/Getty Images
Gilmore celebrates on the podium after winning the Roxy Pro event on July 15, 2011.
Nude awakening: Athletes posing in ESPN's Body Issue
By Michael McCarthy, USA TODAY
Updated 8h 24m ago
Gymnast Alicia Sacramone, snowboarder Gretchen Bleiler, socceer goalie Hope Solo, the NBA's Blake Griffin, MLB's Jose Reyes and the NFL's Steven Jackson lead the list of athletes posing nude in ESPN The Magazine's third annual "Body Issue."

Over 20 athletes will appear in the buff (with private parts strategically covered) in the "Bodies We Want" section of the 2011 issue, said editor-in-chief Chad Millman. The mag's third "exploration and celebration of the athletic form" hits newsstands Oct. 7.
Other female athletes baring their bodies for photographers: the WNBA's Sylvia Fowles; LPGA rookie Belen Mozo; track and field star Natasha Hastings; hockey player Julie Chu; tennis player Vera Zvonareva; surfer Steph Gilmore; tattooed roller derby player Suzy Hotrod and bowler Kelly Kulick.
The other male athletes: speedskater Apolo Ohno; NHL player Ryan Kesler; UFC light heavyweight champion Jon Jones; IndyCar racer Helio Castroneves; snowboarder Louie Vito; boxer Sergio Martinez; marathoner Ryan Hall and paralympian Jeremy Campbell.
"This is an issue in the short time we've been doing it that's become pretty anticipated," says Millman. "In terms of the athletes we've attracted, we feel like the group is really strong."
The first two risque issues featured athletes ranging from Serena Williams, Dwight Howard and mixed martial artist Gina Carano to amputee triathlete Sarah Reinertsen and the USA Women's Water Polo team.
ESPN has never been shy about cross-promoting other properties from parent Disney. This year's roster includes four athletes who are either currently on, or have appeared, on ESPN sister network ABC's Dancing with the Stars, points out consultant David Schwab of Octagon. Solo is currently starring on the show; Ohno; Vito and Castroneves previously appeared.
USA TODAY's Michael McCarthy went one-on-one with Millman. Among the 22 athletes photographed for the "Bodies We Want III," some like St. Louis Rams running back Jackson volunteered, Millman said. This year's issue will also turn the tables by sending a naked reporter to interview clothed hockey players in their locker room. Excerpts:
What's different this year?
What's nice about the 'Body Issue' at this point is that people know what it is and they recognize what our goal is. Now we have athletes and their representatives and the leagues coming to us and saying, 'Can we get so and so in the Body Issue?' Or 'Can I get my client in the 'Body Issue?' There's much less convincing that we have to do than what we had to do in Years 1 and 2. Because people understand what we're trying to do and how we're trying to highlight sports and athletes and various body types. So for us, the aim for this issue is what it always is which is to celebrate athletes in the condition that they're in.
Were you surprised when Hope Solo tweeted she was posing?
That's an interesting story. … We want to keep the names of the athletes under wraps for a variety of reasons. … So Hope was in her trailer getting ready. And Sue Hovey, the executive editor who puts the whole 'Body Issue' together, walked in and was talking with Hope's publicist, I think. They were telling the story about how they try to keep the names under wraps. At that point, Hope was like, 'So I shouldn't be tweeting out that I'm getting ready to go naked for ESPN The Magazine?' She had just sent it out. … That's also an indication of how much more difficult it is to keep these things under wraps. When we do, we feel like we accomplished something.
Did anybody say yes who previously said no?
Gretchen Bleiler. She's someone who we had gone to the first couple of years. She had demurred. … She's been in the magazine a lot and on our cover before. She saw what we were doing with the issue, and how we celebrate athletes' bodies in all forms, and decided it was something she wanted to be a part of. When that happens, you feel like you are doing well by the athletes and doing a good job with the issue. … They put themselves in a very vulnerable position for us. It's not easy to appear on a set, with a lot of different people, and disrobe.
Anybody turn you down?
Not that I know of. But to be honest, if they did, I wouldn't want to say. Because we might want to keep going back to them. The same as we did with Gretchen.
How did Jackson volunteer?
Gary Belsky was the editor-in-chief before me. The 'Body Issue' was his brainchild. … He loves to go to red carpets and the parties when ESPN is involved, like at the ESPY's or the Super Bowl. He'll go up to athletes and just ask them, 'Hey, will you be in the Body Issue?' So he saw Steven Jackson. He introduced himself and said, 'I have a question for you.' Steven Jackson said, 'You want me to be in the Body Issue?' Gary goes 'Yeah.' Steven goes, 'I've been waiting for you to ask.'
Will there be any repeat athletes from the first two 'Body' issues?
There are no repeat athletes.
Will Danica Patrick or Tiger Woods be in? They were not in first two?
Danica Patrick and Tiger Woods are not in the issue. That I can confirm for you.
Which athletes will appear on the covers?
We have picked the athletes for the covers. There will be four covers. I'd rather not say who they are yet. Just because we want to reveal those on the day the issue is released to build anticipation. But I have chosen the covers and there will be four of them.
Do you still give athletes control over what pictures are used?
Yes. We let the athletes see the pictures on set. The last thing we want to do is do something, when they're feeling this vulnerable, that makes them uncomfortable. We have no hesitancy letting them see a shot on set. So they get an indication of what we like and what we're thinking about. Just so they're comfortable.
What feature stories will accompany 'Bodies We Want III'?'
One of the things that's very interesting to me is how athletes deal with bodies in various forms of injury and rehab. … There's a couple of bigger name athlete stories, and you could probably guess, about their rehab and procedures that they're having we had been working on that we'll probably have in this issue. We also have a story about the metaphor of 'balls.' Last year Dave Fleming, one of our senior writers, did a story about how athletes control their bowels in endurance sports. Or any sports really. … This year, Dave is tackling the idea of balls as a metaphor for courage on the field. … We also actually turned the tables on athletes and sent one of our writers to do interviews with the L.A. Kings. In this instance, the writer was naked — and not the athletes. … To give a sense of what perspective is like. And to talk about the locker room ethos of nudity and how it's different from sport to sport and how the players feel about it and what it's like for the writer to finally understand what it means to be in that position that the athletes are in. … The writer is Morty Ain. He was a brave man for doing it. … It's funny, we have a writer who's done a lot of nudity for us and is not shy about getting naked. We originally wanted him to do the story. He just became the president of his son's Little League Baseball League. He was like, 'I just don't feel, as the president of my son's Little League League, I can actually go out and be naked any more.'
How do you pick athletes over the course of the year?
Generally, it starts with the editors compiling a list of the people that we'd want to see in the issue. We think about star power, we think about body types and sports diversity. We want to think about a racial mix and a gender mix. Over the year, editors generally keep a list of the people they think would be interesting. That they'd want to see in there. That they think would attract attention and they think would keep readers interested. Its something that, like I said, a lot of times people are reaching out to us at this point. The WTA (Women's Tennis Association) was interested in getting involved. Steven Jackson was interested in getting involved. … Helio Castroneves happened to be in our office in New York. Sue Hovey said, 'Hey, would you be interested in being in the 'Body Issue?' He said, 'Yes, absolutely.' We don't want to make it all about the four major sports. That's why we try to limit it to one athlete per sport.
Is 'Body Issue' competing with Sports Illustrated's Swimsuit Issue?
For the full story and photos go here:
http://content.usatoday.com/communities/gameon/post/2011/09/espn-the-magazine-3rd-annual-body-issue-alicia-sacramone-hope-solo-blake-griffin-jose-reyes-steven-jackson-gretchen-bleiler-sylvia-fowles-apolo-ohno/1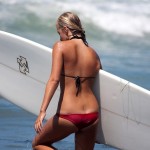 Become A Sponsor!
If you have a product or service that is a good fit for our surf community, we have opportunities for you to sponsor this blog!
Download our media kit now!