VIA – CIVIL BEAT
Posted by Civil Beat Staff on 04/16/2012at 8:33AM HST (13 minutes ago
Country: Way down and dropping. WNW swell maxed out Saturday evening with some reports of near 15' sets on outer reefs. Early this morning Sunset (the top area) at about 2-4' with maybe a left over set; Pipe is 2-3+' and it was so good; moderate trades will provide good conditions tho' the shows over…for now.   
WEST: Down and dropping WNW+SSE at 2-3' maybe some higher sets with light trades and good.
TOWN:  Down and dropping on S-SE today to 1-2+' at focal reefs that like this angle. ENE Trades are making for fair sideoffshores.  Diamond Head: Down and dropping but still Head high sets. The SSE at 1-3' is now typical choppy DH. SANDYS: Down and dropping at 1-3' on sets on…
for the full report go here:
http://sports.sections.civilbeat.com/post/21219350076/oahu-surf-report
)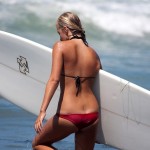 Become A Sponsor!
If you have a product or service that is a good fit for our surf community, we have opportunities for you to sponsor this blog!
Download our media kit now!