VIA – MENLO PARK PATCH

Hacienda Hosts Hollywood
San Mateo subs for Santa Cruz in biopic about famed surfer.
By Rebecca Rosen Lum
8:03pm
Students, residents, workers, and a businessman in suit and tie gathered in front of First Presbyterian Church building on Flores Street this afternoon, edging as close as crews would let them to filming for "Of Mavericks and Men," a biopic about celebrated surfer Jay Moriarity.
"It's a lot of fun," said Pennsylvanian Joe Bullen, in town to visit his daughter.
Several said they had turned up in hopes of seeing Gerard Butler ("300," "How to Train a Dragon"), who appears in the film as a mentor to Moriarity — a role that was originally said to be Sean Penn's. Elisabeth Shue ("Leaving Las Vegas," "Hollow Man") plays his mother, and Jonny Weston has the lead role.
"It's pretty cool," said Andrew Conrad, who walked over with a couple pals from the neighborhood. "I just showed thinking I might get a high five with Gerard Butler."
No-nonsense production assistant Alyssa Gruhn kindly but firmly shooed away onlookers to accommodate a lenghtwise shot down the leafy, wooded street.
Police blocked all traffic on Hacienda near the intersection of 29th and 30th avenues for a scene in which Weston skateboards down the street. Weston has 10 films to his credit, most in production.
The street has some film cachet to its credit, too: Actress Diane Varsi, star of the 1957 film "Peyton Place," lived at the corner of 29th and Hacienda.
San Mateo Police Department gave area business owners a heads' up that traffic would be halted, and that they might receive a rush of customers.
"So far, only security," said Tara Shelton, manager of San Mateo Coffee Company.
All local info about the production — real and rumored — landed with Jonathan Alemania, manager of Vinyl Solution, a record store on 25th Avenue.
"It's a pretty high-budget production," he said. "The film is actually supposed to take place in Santa Cruz, but the majority takes place in Half Moon Bay."
That's the site of the Mavericks, where an underwater rock formation creates a break, and waves that can exceed 25 feet and top out at 80. Big wave riders…
For the full article and all the photos go here:
http://menlopark.patch.com/articles/hollywood-comes-to-hacienda-street
For more articles about 'Of Mavericks and Men' go here:
http://surftweeters.com/?s=jay+moriarty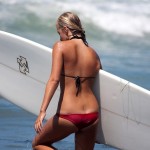 Become A Sponsor!
If you have a product or service that is a good fit for our surf community, we have opportunities for you to sponsor this blog!
Download our media kit now!