VIA – SMH

Olympic champion sailor in scuffle
December 11, 2011 – 12:31AM


Britain's triple Olympic gold medalist Ben Ainslie is at risk of missing the 2012 London Games after a spectacular altercation with the crew of a media boat at the sailing world titles off Fremantle.
The superstar is facing gross misconduct charges at the ISAF Sailing World Championships, punishable by a possible lengthy ban from the sport, after the incident.
Ainslie had just finished the ninth Finn class fleet race at the worlds on Saturday when he appeared to attack a cameraman aboard the media boat.
Witnesses said Ainslie had been angered by the boat creating a wash that aided one of his rivals.
He jumped from his craft, swam to the media vessel and climbed aboard.
Photos of the incident, seen by AAP, appear to show Ainslie first remonstrating with the driver of the boat and then having a physical altercation with a photographer.
Ainslie appears to grab the photographer and throw him aside.
He then dived head first back into the water and swam back to his dinghy.
Event organisers confirmed the incident is being treated as a breach of the Royal Yachting Association's (RYA) rule 69, regarding gross misconduct.
The RYA guidelines list "fighting or assault" as punishable by excluding an individual from the current or future events for an unspecified period of time.
The British sailing team could also impose its own sanctions if Ainslie is found guilty of misconduct.
After the altercation, which was witnessed by dozens of spectators, Ainslie started the tenth and final Finn fleet race of the world titles.
He declined to comment to AAP about the incident after the racing.
"I'm sorry, I'm quite busy at the moment," he said as he walked from the boat dressed in his wetsuit and lifejacket.
He was black flagged at the start of the tenth race for an infringement…
For the full article go here:
http://www.smh.com.au/sport/olympic-champion-sailor-in-scuffle-20111211-1op83.html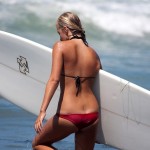 Become A Sponsor!
If you have a product or service that is a good fit for our surf community, we have opportunities for you to sponsor this blog!
Download our media kit now!