Glad they're using all their resources to clean up the waters around their country, oh no wait, they're waiting for us to pay for that while they go off and kill whales in the name of science…
VIA – DIGITAL JOURNAL
Op-Ed: Japanese whaling fleet captured 267 whales, adds to stockpiles
By
Elizabeth Batt
Tokyo
– Japan's Fisheries Agency reports the Japanese whaling fleet took 267 whales during the 2011-12 whaling season. Although numbers fell far short of the 900 quota allotted, it still exceeded last season's take by 172 whales.
The news proved bitter-sweet for anti-whaling activists, who had hoped that the whaling fleet would not return to the Southern Ocean Whale Sanctuary this season, after quitting the season early last year. But a report in the
Daily Yomiuri
, said statistics released on Saturday, showed 267 whales had been killed, including 266 minkes and one fin whale. Females were hit particularly hard, accounting for 168 of the total number; 107 of these were adults and 92.5 percent of them were pregnant. Never has the disparity between Western and Japanese cultures been more glaringly obvious than in the perceived loss of pregnant female whales. To the Fisheries Ministry, the high percentage of pregnant females taken, meant the "breeding season for Antarctic whales" had "been favorable," said the
Daily Yomiuri
. But for many in the Western world, the loss was a double whammy that removed two generations of mammals from the ocean. In recent months, Japan has been battered by pressure to quit whaling. Accused of exploiting an International Whaling Commission loophole which allows whaling for scientific purposes, Japan's government incurred heavy criticism last January, when it used funds earmarked for disaster relief, to beef up security on its whaling vessels. Even its own media finally began to question whether whaling was still central to Japanese life, castigating the diversion of disaster funds in the process. Japan's
pro-whaling stance
"hardly seems compelling," said the January editorial in the
Japan Times
, when "whale meat from whales killed last year [2010-11 season] is piling up in refrigerated warehouses." Even more strangely, newly released Icelandic export figures for February, show that Japan imported an additional 289,553 pounds of frozen whale products. Why is Japan stockpiling whale meat it neither needs or might use? Professor Jun Morikawa of the Rakuno Gakuen University, discussed the issue of stockpiling in his 2009 treatise,
Whaling in Japan
. Morikawa writes that so much whale meat has piled up, "large-scale campaigns" have been necessary, "to urge the general public to consume more" of it. But not all Japanese people consume whale meat the professor adds, and not all of them agree with whaling. Some prefectures he says, have long revered the whale, and visualize the mammals as "Gods of good fortune." But whaling entities, bolstered by a powerful government Morikawa implies, are simply involved in a masterful game of chess. By incorporating, 'tradition' and 'culture' and 'Japan' or 'Japanese', into discussions, he says, the government of Japan is ensuring activist groups have become "unwitting pawns" in the debate." Attacks on Japan as 'a nation' he suggests, serve only to…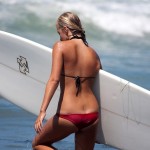 Become A Sponsor!
If you have a product or service that is a good fit for our surf community, we have opportunities for you to sponsor this blog!
Download our media kit now!