VIA – ALOHA UPDATE
When the surf on the North Shore gets above 10 feet Hawaiian scale, everyone knows about Waimea Bay and Pipeline for epic big wave surfing.  There are a couple other outer reef breaks that are less crowded and offer up the same adrenaline rush.  If you are an expert waterman, have no fear, a big wave gun and a jet ski, here are a some of the top outer reef surf breaks on the north shore.
Located outside Laniakea's surf break, Himalayas works best on a huge north west or west swell.  This spot is known to be super fickle and doesn't get too crowded because of how unforgiving this wave can be.  Getting sucked out in the current, pounded on the reef, and frequent tiger shark sightings are a couple of the reasons this wave is for locals and pros only.
Avalanches
This massive break is outside Haleiwa Harbor, out past Puaena Point.  This deep water break is where the North Shore Tow-In Surf Championship take place.  This contest requires a minimum of 25 foot Hawaiian Scale (50 foot face) waves to for it to be called ON.
Outside Log Cabins
Just down from Pipeline, Log Cabins is also normally a beefy beach break.  When a huge north or northwest swell comes through Outside Log Cabins becomes a tow-in surfing spot only and only truly breaks at 25 foot+ Hawaiian scale.  Ken Bradshaw surfed the largest wave on record here measuring in at an 85 foot face!
Phantoms…
For the full surf report for Hawaii go here:
http://www.alohaupdate.com/2012/02/16/outer-reef-surf-breaks-on-the-north-shore/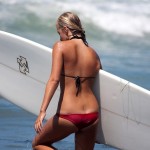 Become A Sponsor!
If you have a product or service that is a good fit for our surf community, we have opportunities for you to sponsor this blog!
Download our media kit now!