VIA – PACIFICA PATCH



Great Escape: Chill Out Longboard Surf Contest
This week, get your surf on at the 21st annual Big Chill Out Longboard Surf Contest.
By Christa Bigue
1:00pm
What could be more chill than spending the day on the beach watching the 21st annual Big Chill Out Longboard Surf Contest? This Saturday from 7 a.m. to 5 p.m., get your surf on at Linda Mar's Pacifica State Beach and check out the Big Chill Out Longboard Surf Contest.
More than just a contest, this community event brings together a team of dedicated volunteers who make the Big Chill Out a fun family day with sponsor booths, all-day raffles and some great surfing.
Known for drawing big crowds, this popular longboard surf event is hosted every year by the Pedro Point Surf Club (PPSC), which was formed by a group of surfers in 1987 at Pedro Point to raise funds for local community and beach-related nonprofits.
In past years the surf conditions have run the gamut from waves three feet tall or less with clean glassy faces to surf measuring double overhead on sets and chilly 25 mph winds blowing onshore all day, so it's hard to know what to expect — but that's what makes this surf contest so entertaining.
This year, Saturday's forecast calls for mild conditions of morning fog giving way to partly sunny skies and a cool 12 mph breeze blowing onshore, which will be an issue. But with the possibility of three to five-foot waves and a rising northwest wind and groundswell energy, the surf promises to be capricious and challenging.
Whatever the conditions, surfers of all ages and abilities are there to compete for trophies and surf for a good cause.
The Big Chill Out is PPSC's major fund-raising event of the year that allows ongoing donations to Ride-A-Wave, Surfrider Foundation and Pacifica Beach Coalition.
With more than 100 participants every year, contestants can expect to surf at least two rounds, if not more. The event attracts amateurs and professional surfers from longboard surf clubs up and down the California coast and as far away as Washington and Florida states.
More than 40 sponsors raffle off thousands of dollars worth of surfing equipment from surfboards to wetsuits. Raffle tickets will be sold for $1 each.
Another fun event that spectators won't want to miss watching is Rick's Relay, thought up by local surfing veteran and surfboard shaper of Wander Inn Surfboards Rick Eastman.
Six teams of four surfers will start on the beach. One team member from each team will run down into the water, paddle out, catch a wave and run back in, tagging the next person on their team to do the circuit again. Teams will be given points for finishing at the best time and for surfing ability.
Festivities will continue for the surfers with a dinner and an awards ceremony, which gives away more than 80 trophies at the Pacifica Community Center. Everyone can continue the fun into the evening with music and dancing at the Longboard Margarita Bar.
For all the information and heat schedules go here:
http://pacifica.patch.com/articles/great-escape-chill-out-longboard-surf-contest#photo-7640189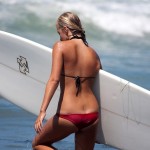 Become A Sponsor!
If you have a product or service that is a good fit for our surf community, we have opportunities for you to sponsor this blog!
Download our media kit now!