VIA – SF GATE
PacSun Risks Wipeout as Investors Shun Surf-Gear Seller: Retail
Sapna Maheshwari, ©2012 Bloomberg News
Published 10:57 a.m., Monday, July 9, 2012
July 9 (Bloomberg) — Pacific Sunwear of California Inc., which made surf and skate styles cool for millions of U.S. teens, is trying to avoid a wipeout.
After popularizing such brands as Quiksilver and Hurley, PacSun, as it's known, alienated customers by trying to sell its own apparel. Many decamped. So did investors; the shares have fallen 92 percent in the past five years. Now, as PacSun tries to win back hearts and minds by retreating to its original strategy, it faces growing competition from Zumiez Inc. and Tilly's Inc., which sell similar gear.
PacSun "lost credibility with their core market," David King, a senior research analyst at Roth Capital Partners LLC, headquartered in Newport Beach, California, said in a telephone interview. "The question is, 'can they get back to that?'"
It's not as though action-sports apparel is becoming less trendy. Fueled by the popularity of the Extreme Games on ESPN, sales of skateboards, surf apparel, footwear and accessories were $17 billion in 2010, the last year for which figures are available, according to Board-Trac, an industry consultant based in Trabuco Canyon, California.
And while consumers are still spending tentatively, surf- and skate-inspired apparel retailers may have an opportunity to grab a bigger part of the teen spending pie. Teens are moving away from the "preppy" graphic Ts and hoodies sold by Abercrombie & Fitch Co. and American Eagle Outfitters Inc. to an eclectic mix of lifestyle brands, fueling the success of retailers like Tilly's and Zumiez, Richard Jaffe, an analyst at Stifel Nicolaus & Co. in New York said in a May 29 note.
Tilly's IPO
Zumiez had surged 37 percent this year as of July 6 and fell 1.3 percent to $37.54 at 12:30 p.m. in New York. In May, Tilly's raised $107 million in an initial public offering; the company was little changed at $16.40 a share today. PacSun, based in Anaheim, California, has advanced 4.7 percent this year, a performance that's due in part to stock purchases by Chief Executive Officer Gary Schoenfeld and other directors. The stock advanced 11 percent to $1.98 today.
"We truly believe we can stand out through our on-trend and distinctive apparel, our unique mix of brands and the emotional connection we're once again establishing with customers with our Golden State of Mind positioning," Schoenfeld said in a telephone interview, referring to a new marketing campaign playing up PacSun's California heritage.
Founded in 1982, PacSun introduced once-obscure skater and snowboarding brands to mall-shopping teens. Sales peaked at $1.44 billion in 2007. Revenue has declined every year since to $833.8 million in the year ended Jan. 28, and the retailer is closing stores. By the end of this fiscal year, PacSun will have as few as 620 stores, about half the number it once had. To help pay for the store closings, PacSun got a $60 million loan from private-equity firm Golden Gate Capital in December.
Private Label
Former CEO Sally Kasaks, who led PacSun from October 2006 to June 2009, spearheaded a shift to higher-margin private label lines, reducing brand assortment and cutting footwear out of stores to compete with other mall-based retailers. The strategy, made more difficult by the onset of the recession and a drop in consumer spending, failed to resonate with teens who craved action sports brands and shoes, as well as junior girls who could find a bigger variety of cheap fashion elsewhere.
By walking away from the branded market, Schoenfeld says PacSun lost its status as a national platform for such emerging brands as Vans Inc., the skate shoe company he ran until its 2004 sale to VF Corp.
Crystal Clear
"We've been crystal clear that we're going to get back to the old days, and get back to being a place where new emerging brands would be excited to be in our stores and where customers could rediscover new brands as well," he said…
For more go here:
http://www.sfgate.com/business/bloomberg/article/PacSun-Risks-Wipeout-as-Investors-Shun-Surf-Gear-3693619.php#page-2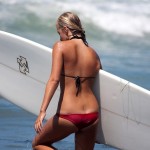 Become A Sponsor!
If you have a product or service that is a good fit for our surf community, we have opportunities for you to sponsor this blog!
Download our media kit now!