VIA – ASIAN JOURNAL


Pat PM Tenore: Entrepreneur and Founder of RVCA
Saturday, 10 September 2011 00:00 Joseph Pimentel | AJPress Los Angeles
WHEN Pat PM Tenore founded his company, RVCA (pronounced Ruca), it defied convention. Created in early 2000 with former wave rider Conan Hayes, Tenore's vision was to create a label, a lifestyle brand that fused skate and surf sports fashion with music, and art. His goal was to combine art, music, fashion and a modern lifestyle presented in an original way.
It's safe to say that 10 years later, Tenore succeeded.
His lifestyle brand RVCA is one of the most successful companies in the world and is sported by mainstream celebrities, jocks, surfers, artists and musicians.
In 2009, before he sold it to Billabong, RVCA was being sold in 600 accounts in the US, 28 countries around the world and climbing the $50 million sales mark, according to Entrepreneur.
He created a haven for artists, where they can come and go as they please at apartments in the company's 70,000-square-foot headquarters in Costa Mesa.
"I wanted to do something other people in the industry weren't, and that is provide a space for artists, musicians, surfers, skaters, curators, models.
That's when I started conceptualizing the artists network program (ANP)," Tenore told Entrepreneur in 2009.
"The name RVCA is an ambiguous word, created to support the meaning behind the chevrons (VA)," he explained to Transworld Business.
"The chevrons are the icon that represent the balance of opposites – man / woman – industrialization / nature – basically how everything co-exists."
Tenore was also among a small number of business people who was invited by President Barack Obama in 2009 to the White House to discuss the administration's plan to help small businesses.
"The President seemed authentic and connected to the problems and concerns of everyone in the group," Tenore said to shop-eat-surf.com about his experience at the White House and President Obama.
"Ever since I was a kid I felt alienated from government and politics. The experience made me feel that Obama is genuinely in tune with everyone."
Though many see Tenore's successful company and his invitation by the president as a form of making it, things weren't as bright when Tenore was growing up.
Humble beginnings
Tenore grew up poor in the Mission District in San Francisco. He is an American of Chinese-Filipino roots.
His mother and maternal grandfather raised him and he also spent time in the Philippines with relatives.
He told the New York Times that his childhood was "turbulent, mostly fatherless and [a] short childhood."
Despite the lack of advantages, Tenore persevered.
At the age of 14, Tenore earned a surfing sponsorship. According to Entrepreneur, a New York City designer discovered Tenore while he was working at his sponsor's surf shop.
The designers brought Tenore back with them to New York City where they taught him the fashion trade.
Tenore then opened his own boutique before age 20 "and whether he knew it or not, he was building the networks he would need to start RVCA," said Entrepreneur.
"I fell into it," Tenore told the New York Times. "The business people don't like to hear this, but sometimes it's better not to have a plan."
RVCA
Back in 2001, the surf/ skate sub-market was in its infancy.
Back then, surfers and skaters or people into that lifestyle, wore mainstream brands Billabong, Quicksilver or Roxy only.
But Tenore felt there were more things to be created. A subculture of artists, skaters and surfers was brewing into the scene.
He envisioned a clothing line that would be more than just clothes — it would be a lifestyle, a "melding of different subcultures and personalities into a tribe," he told Entrepreneur.
Along with co-founder Conan Hayes and a $20,000 investment, Tenore created RVCA from his garage. The clothing line became an instant hit.
Within five years, RVCA touched a nerve among the underground surfers, skaters, graffiti artists, and the music sub-culture.
On its popularity, Nick Engvall of Eastbay Sports apparel wrote: "The RVCA brand has transcended streetwear culture over the last couple years to become one of the more popular brands out. The skateboard and surf inspired clothing is more than just clothing. The design-driven RVCA (pronounced ru-ka) brand combines art, culture, music, and fashion in a way that promotes creativity and modern lifestyle."
It seems everyone these days are wearing RVCA clothing from skaters, surfers, musicians and even mixed martial arts fighters BJ Penn and Fedore Emelienko, whom RVCA sponsors.
Though Tenore sold the company to Billabong in July of 2010, he is still part of the brand.
On selling the company for an undisclosed price, Tenore told Transworld Business: "The original concept of RVCA was, and still is, to be a lifestyle brand that integrated different subcultures within one platform … a platform for like-minded people to produce great art and other creative endeavors, while getting recognition for their contribution and involvement," said Tenore.
For the full article go here:
http://www.asianjournal.com/galing-pinoy/59-galing-pinoy/12536-pat-pm-tenore-entrepreneur-and-founder-of-rvca.html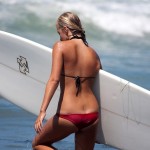 Become A Sponsor!
If you have a product or service that is a good fit for our surf community, we have opportunities for you to sponsor this blog!
Download our media kit now!