VIA – HUFF POST
Peru Bird Deaths: Peruvian Government Warns Against Beaches After Mysterious Pelican Deaths
05/06/12 04:20 PM ET AP
LIMA, Peru — Peru's Health Ministry is urging people to stay away from Pacific beaches from Lima northward after recent large-scale deaths of pelicans and dolphins.
Neither the Health Ministry nor Peru's oceanographic institute has determined the cause of the deaths, and there is no indication the deaths of the birds and the mammals are related.
And Saturday's warning did not indicate why it might be dangerous to visit beaches. Peru's agricultural safety service ruled out Friday that the pelicans could have died of avian flu, which could be contagious to humans.
Since February, some 877 dolphins and, more recently, at least 1,200 pelicans have been found dead on Peruvian beaches for unexplained reasons.
Local fishermen and restaurant owners said Saturday's warning hasn't had much effect on their businesses…
for the full article go here:
http://www.huffingtonpost.com/2012/05/06/peru-bird-deaths-government-warns-beaches_n_1491033.html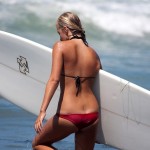 Become A Sponsor!
If you have a product or service that is a good fit for our surf community, we have opportunities for you to sponsor this blog!
Download our media kit now!