I hate big oil…
VIA – PERU THIS WEEK
Peru's Congress wants report on mass dolphin deaths
Andina
April 8, 2012
Daniel Abugattas, president of the Peruvian Congress, said he hopes the executive branch -through the ministers of environment, production, and energy and mines- will report to Parliament about the death of more than 3,000 dolphins in the country's northern coast.
It would be advisable that these ministers meet with the competent parliamentary committees to address this issue next week, Abugattas said in a statement.
Some 3,000 dead dolphins have washed up on the beaches in northern Peru, supposedly having died from the effects of petroleum exploitation in the area.
According to the science director for the Scientific Organization for Conservation of Aquatic Animals, or ORCA, Carlos Yaipen, the deaths of the oceanic mammals was due to a "marine bubble," an acoustic pocket that forms as a result of using equipment to explore for petroleum below the seabed.
"The oil companies use different frequencies of acoustic waves and the effects produced by these bubbles are not plainly visible, but they generate effects later in the animals. That can cause death by acoustic impact, not only in dolphins, but …"
For the full article go here:
http://www.peruthisweek.com/news-1898-Perus-Congress-wants-report-on-mass-dolphin-deaths/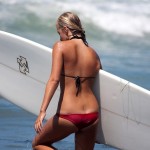 Become A Sponsor!
If you have a product or service that is a good fit for our surf community, we have opportunities for you to sponsor this blog!
Download our media kit now!