VIA – 10 NEWS
PETA Whale Slavery Lawsuit Moves Forward
PETA Lawyers To Demand Release Of SeaWorld Orcas
POSTED: 5:57 pm PST February 5, 2012
UPDATED: 6:07 pm PST February 5, 2012
SAN DIEGO — Lawyers for People for the Ethical Treatment of Animals will face SeaWorld in court on Monday to demand the release of five orcas into their natural habitat.
"This case is the first time we've sought constitutional protection," said lawyer Jeff Kerr, who has worked with PETA for 16 years.
Kerr and his team claim SeaWorld is violating the 13th Amendment of the U.S. Constitution's ban on slavery and involuntary servitude by holding orcas Tilikum, Katina, Kasatka, Ulises, and Corky at its parks in Orlando, Fla. and San Diego.
"[The suit] eradicates slavery in all forms and slavery should not depend upon the species of the slave anymore than it depends upon gender, race or ethnicity of the slave," said Kerr.
PETA will argue that if the orcas can suffer from enslavement, they should be protected from it.
"They were ripped from their homes and families, with whom they would have spent their entire lives," said Kerr.
"They're held in the equivalent of concrete bathtubs.
They're denied everything natural to them… They're forced to perform for human amusement and they've been turned into virtual breeding machines. By any reasonable definition, they're slaves.
"SeaWorld said PETA's claim is "baseless and in many ways offensive.
"However, some believe that the Founding Fathers probably did not have Shamu and Flipper in mind when they wrote the Constitution."Because it's PETA, I'm rarely surprised," said Mike Martindil, a professor at the Thomas Jefferson School of Law.Martindil does not think the case will hold up in court.
"I was fascinated by their attempt to assert constitutional claims on behalf of non-humans," he said.Kerr, however, believes his team has a strong case…
For the full article go here: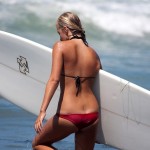 Become A Sponsor!
If you have a product or service that is a good fit for our surf community, we have opportunities for you to sponsor this blog!
Download our media kit now!