VIA – FOUNTAIN VALLEY PATCH
Gigantic Great White Shark Caught in Mexico
Great white shark taken by net on Sunday in the Sea of Cortez. Credit San Carlos Mexico online forum
Fishermen had to tow the monster over 2 miles on a 22-foot panga to reach their destination. Credit San Carlos Mexico online forum
We're going to need a bigger boat.
That thought had to have crossed the minds of two commercial fishermen in Mexico who hauled up a great white shark reported to measure nearly 20 feet and weighing more than 2,000 pounds.
The apex predator was caught in net Sunday in the Sea of Cortez near Guaymas. The fishermen said it was dead before it reached the water's surface.
Pisces Sportfishing in Cabo San Lucas reported the catch on its blog Tuesday.
"We were amazed and immediately realized that we had a huge, dead, great white shark, and then we thought what are we going to do?," Guadalupe told Pisces.
Outdoors reporter Pete Thomas posted stories on the incredible catch to Pete Thomas Outdoors and GrindTv.com.
It was quite a chore to get the huge shark to the coast for the fishermen, as they were in a 22-foot panga, or skiff. They towed it slowly for two miles and were met by a crowd of people, who helped to drag it onto the beach.
There is some controversy about the reported length of the shark. If, in fact, it measured six meters (19.8 feet), as Milenio News reported, it'd be one of the longest white sharks ever recorded. Also, many believe that a shark of that length would weigh more than 2,000-pounds.
Coincidentally, springtime is when sightings of juvenile great white sharks increase in Southern California waters, which are a nursery area for the predators. Sightings of adult white sharks also increase during the spring and summer.
Earlier this month, surfer Michael Geraci reported the following sighting to the Shark Research Committee, from Laguna Beach:
"There was an 8-foot White Shark cruising by my board after it came up from behind. The first thing I noticed was the giant girth of his/her belly and then …"
For the original post go here:
http://fountainvalley.patch.com/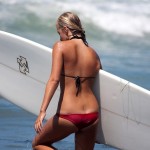 Become A Sponsor!
If you have a product or service that is a good fit for our surf community, we have opportunities for you to sponsor this blog!
Download our media kit now!