VIA – AMERICAN SUPERSTAR MAG
PHOTOS: Lindsay Lohan Enjoys Surfing Competition In Hawaii
Submitted by Celebrity News Wire on December 10, 2011
The world may be looking at her recently-leaked Playboy photos, but life's a beach for Lindsay Lohan. The actress jetted off to Hawaii this week for some R&R — and to escape the publicity surround her racy shoot.
Lohan was spotted in Hawaii Friday watching the Billabong Pipeline Masters from the porch of a private residence with surfing agent Blair Marlin.
Lohan took time to attend a memorial for her late friend, surfing pro Andy Irons. This year's Pipeline Masters is held in memory of Irons, who died earlier this year due to an accidental drug overdose.
The actress' mini-vacation, which TMZ reports was pre-approved by Lohan's probation officer, will hopefully give Lohan some time to recharge away from the LA spotlight before her scheduled Dec. 14 probation update, and the hardcopies of her Playboy shoot hit newsstands.
Check out some photos of Lohan in Hawaii below!
PHOTOS:
For the original post go here:
http://www.americansuperstarmag.com/celebrity-news/photos-lindsay-lohan-enjoys-surfing-competition-in-hawaii
While in Hawaii..
VIA – TMZ
Lindsay Lohan in Hawaii Someone Jacked My Purse!!!
LIndsay Lohan's Hawaii vacation just got a whole lot more stressful — TMZ has learned, she got her purse stolen last night … containing everything from her passport to tons of cash.
Sources close to Lindsay tell TMZ, Linds had been at a house party in Laie, Hawaii for about two hours — NOT drinking — and accidentally left her $5,000 Chanel purse in the car. When she came out, the purse was gone.
According to sources, the purse contained her passport (and other ID), her probation paperwork — giving her permission to take the trip — and lots of cold hard cash … good idea.
But it gets crazier — Lindsay is due back in California court on Wednesday for a hearing about her probation. It's extremely unlikely, but if she misses her court date, the judge could find her in contempt and revoke her probation, landing her in the pokey.
If it all sounds familiar — it's because the same exact thing happened to Lindsay last year while she was in Cannes … 'Memba that?
Kahuku Police are currently investigating the situation.
For the original post go here:
http://www.tmz.com/2011/12/11/lindsay-lohan-hawaii-purse-stolen/#.TuTf1fKwVM0
For Photos of Lindsay surfing go here:
http://surftweeters.com/lindsay-lohan-attempts-surfing/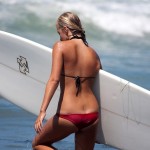 Become A Sponsor!
If you have a product or service that is a good fit for our surf community, we have opportunities for you to sponsor this blog!
Download our media kit now!