VIA – CARE2
Plastic Bags Banned On Hawaii's Big Island
January 30, 2012
6:07 pm
The post-card perfect beaches of Hawaii's Big Island will now be safer from toxic litter and costly waste thanks to recent decisions by the Hawaii County Council and Mayor Billy Kenoi.
In late December, the Council approved a bill that would restrict retailers from offering plastic bags at the checkout counter. And just over a week ago, the bill was signed into law by Kenoi. In doing so, the Big Island joined its neighbors Kauai and Maui which already have similar bans in place. However, support for the bill was far from unanimous.
A frequent surfer, Kenoi acknowledged that plastic bags can become unwelcome litter and also threaten marine mammals that mistake them for food. However, Kenoi said he also agrees with bill opponents who feel charging for plastic bags, education and voluntary recycling are better solutions than government mandates for addressing littering issues.
"Yet, this bill holds the promise of keeping our island clean, healthy and safe, and we need to finish the job," Kenoi told lawmakers.
Hawaii County's law affects only plastic shopping bags distributed at the checkout counter; garbage bags, those available in the produce section of supermarkets and packaging material are excluded…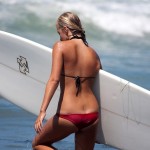 Become A Sponsor!
If you have a product or service that is a good fit for our surf community, we have opportunities for you to sponsor this blog!
Download our media kit now!