VIA – FANHOUSE
Pro skier dead after Utah avalanche
Associated Press
PUBLISHED 13 hours and 13 minutes ago
LAST UPDATED 12 hours and 36 minutes ago
SALT LAKE CITY—A world record-holding professional skier who once famously jumped off a 255-foot cliff died in a weekend avalanche in Utah while on a steep slope at a closed resort.
Jamie Pierre, 38, was swept over a cliff Sunday at Snowbird Ski and Summer Resort in the Wasatch mountains about 30 miles southeast of Salt Lake City.


Police in Utah said Jamie Pierre was killed Sunday while snowboarding near Gad Valley. (AP Photo/Snowbird Ski and Summer Resort, Brent Benson)
Pierre was snowboarding one of Snowbird's steepest slopes with a friend when he was sent cartwheeling over a cliff after he triggered the late afternoon slide, the Utah Avalanche Center reported.
It was the season's first avalanche fatality in the U.S., authorities said.
Pierre's sister, Naomi Pierre, 33, of Minnetonka, Minn., said her brother was a deeply devout Christian who prayed before every jump or run down a dangerous slope.
"He absolutely loved the Lord. That was his purpose and mission in life, and his skiing was all about honoring God. He was incredibly passionate about getting that word out to youth," Naomi Pierre said Monday. "So he did that through jumping off cliffs and skiing down dangerous chutes.
"He always asked the Lord first if it was OK to go," she added. "He was a wonderful person."
More than a foot of fluffy snow had fallen in the mountains over the weekend where snow was already waist-deep, creating what authorities said were dangerous avalanche conditions.
"Early season is our most dangerous time of year — just the opposite of what most people think," Bruce Tremper, director of the Utah Avalanche Center, said Monday. "It's not anything you want to mess with."
Snowbird doesn't open for skiing until Saturday and hasn't cleared the mountain of danger. The resort had signs warning against skiing, and Pierre and his ski partner shouldn't have been on the slopes, Unified Police Lt. Justin Hoyal said.
"They're trespassing, technically, and it's very dangerous," Hoyal said Monday.
Pierre set off from nearby Alta Ski Area and made his way to neighboring Snowbird over a series of ridges. The two apparently avoided injury in one slide earlier in the day, officials said.
"With the partner watching, the victim dropped into the slope, immediately triggering the slide," the Utah Avalanche Center said in a preliminary report posted on its website. "He was carried hundreds of feet through steep rocky terrain and reportedly went over a small cliff band and came to a stop only partially buried."
Early season in Utah always brings skiers who can't wait to hit the slopes. And because many of Utah's ski areas sit on national forest land, they can't legally keep people from venturing out even before they open. However, the Forest Service allows Snowbird to keep skiers off its slope for a week before opening while it prepares the mountain.
Still, few skiers are ticketed or thrown off the slopes, Hoyal said.
Police wouldn't immediately release the name of Pierre's ski partner.
Pierre appeared in numerous ski films and had a legion of sponsors. He was best known for a terrifying 2006 jump off the backside of Wyoming's Grand Targhee Resort. It was a dizzying fall from higher than the Golden Gate Bridge, and garnered him a world record.
Pierre landed on his head in 12 feet of soft snow but escaped injury and promptly vowed he'd never try that again. He also had many other notable cliff jumps, including a 165-foot jump off Alta's signature Wolverine Cirque.
"A great person, a little misunderstood at times, but anyone who knew him knows he had…"
For the full story go here:
http://aol.sportingnews.com/sport/story/2011-11-14/pro-skier-dead-after-utah-avalanche?icid=maing-grid7|maing6|dl7|sec3_lnk1|112543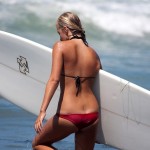 Become A Sponsor!
If you have a product or service that is a good fit for our surf community, we have opportunities for you to sponsor this blog!
Download our media kit now!