I agree with this 100%. I don't even get why major brands and boardshops knowingly sponsor certain guys who are always fing batu'd out of their brains when they're out in the water…annoying. Oh ya, because they rip…nvm.
VIA – THE AUSTRALIAN
Photo: Queenslander Michael Peterson, who was one of the greatest surfers in the world during the 1970s, disappeared from the sport after suffering mental illness triggered by …
Professional surfers have to accept the tide has turned to drug testing
Fred Pawle
From: The Australian
November 11, 2011 12:00AM
THE Association of Surfing Professionals will introduce drug testing at contests from next year, according to board member Randy Rarick.
"It's been a long time coming," he told The Australian yesterday.
It sure has. Surfers have been embracing drug culture ever since some of the sport's biggest stars started smoking pot and reinterpreting their hobby as a freaky, creative pursuit in the 1960s.
The association soon graduated to LSD, heroin and cocaine, and the casualties mounted. Australians Kevin Brennan, Joe Engel and Michael Peterson and Americans Jeff Hakman and Dave Eggers are just some of the surfers whose lives or careers were cut short by substance abuse.
And they're just the prominent ones. The industry's history is littered with hangers-on and bit players who burned brightly and spun out.
As an ad for Quiksliver surfwear said in the 1980s, "If you can't rock and roll, don't f***en come." The sport and industry were, for a long time, at the rollicking edge of the counterculture because that's what sold products.
Hovering over the decision by the board yesterday was the culture's greatest casualty, Andy Irons, who died alone in a Texas hotel room with a cocktail of drugs in his veins almost exactly a year earlier.
Irons was sponsored by Australian surfwear company Billabong. In August, its US marketing boss, Graham Stapelberg, divulged to journalist Brad Melekian that he helped fund Irons' two rehab stints in 2007
Although Irons' erratic behaviour on tour suggested his problems were possibly drug related, the ASP denied having any knowledge of it.
"The ASP has had no access to reliable evidence that Andy Irons was an illicit drug user," ASP media director Dave Prodan told me in July this year.
Repeated calls to Billabong's US and Australian offices yesterday to discuss the introduction of testing yielded no reply.
Will the introduction of testing change the culture? It's difficult to say. Pro surfers don't need to enter contests to earn a living. Some are paid simply to surf, and what they do out of the water is regarded as nobody's business but their own.
There is a strong reluctance to discuss the issue…
For the full article go here:
http://www.theaustralian.com.au/news/sport/professional-surfers-have-to-accept-the-tide-has-turned-to-drug-testing/story-e6frg7mf-1226191884094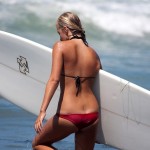 Become A Sponsor!
If you have a product or service that is a good fit for our surf community, we have opportunities for you to sponsor this blog!
Download our media kit now!