VIA – LONG BEACH PATCH


Protest Planned Amidst Rumored Quiksilver Cancellation
Unsound Surf will host a silent protest outside of city hall at 9 a.m.
By Matthew Hogan
1:09am
Monday's announcement by Long Beach City Manager Charles Theofan that the Quiksilver Pro New York's festival portion had been canceled may have been just a preview of what was to come.
Unsound Surf has confirmed that it will hold a silent protest outside of city hall Tuesday morning at 9 a.m. to keep the entire competition scheduled as planned. While a worker at Unsound said that the competition had not officially been canceled, he also said the fate of the event was "up in the air," and will more than likely be determined at a meeting Tuesday morning between Quiksilver and city officials.
Unsound Surf called on surfers, fans and business owners Monday night to turn out in front of city hall Tuesday morning with friends and signs in support of the competition.
"This is an event that so many have wanted for so long, and cancelling it will do nothing positive for out great city," the surf shop said on Facebook.
The rumored cancellation comes less than 24 hours after Quiksilver issued a statement that the competition would go on as scheduled, after Hurricane Irene wreaked havoc on the Long Beach shores over the weekend.
"Surfing events have always required daily flexibility, so while Irene posed a larger than normal challenge, it was still well within the realm of what we prepare for when staging professional surfing events," Luke Watson, a spokesman for Quiksilver, said in a statement released Monday. "We chose the upcoming weeks to stage the event because it was hurricane season, offering the greatest potential for good surf. So planning for hurricanes was par for the course."
Residents and surfing fans alike have flooded the Unsound Surf Facebook page in support of the rally and keeping the event scheduled in Long Beach, citing the obvious economic stimulus and entertainment as major reasons.
Adrian Buchan, an Australian surfer scheduled to compete in the Quiksilver Pro New York, wrote "NY limbo" on Twitter late Monday night.
Michael Bourez, a surfer from Tahiti, also tweeted "Is NY canceled or what?"
For the full story go here:
http://longbeach.patch.com/articles/rally-planned-amidst-rumored-quiksilver-cancellation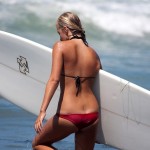 Become A Sponsor!
If you have a product or service that is a good fit for our surf community, we have opportunities for you to sponsor this blog!
Download our media kit now!