You don't need a test, he's f'ing nuts. But if you say he's nuts then he isn't liable…gawd I hate psychiatry.
VIA – THE NORTHERN STAR


Psych test for Gilmore accused
17th August 2011
A MAN accused of attacking champion surfer Stephanie Gilmore late last year will undertake a psychiatric assessment to see whether he is fit to enter a plea.
Julius Sterling Guy Fox, 26 of Kirra, is accused of attacking Ms Gilmore with an iron bar outside her Tweed Heads unit block, breaking her wrist and hitting her on the head, on December 27 last year.
Police facts put before the court on previous occasions indicated Fox was known to have had mental health problems previously and had been living in bushland around Tweed Heads when the attack happened.
Fox has been charged with wounding with intent to cause grievous bodily harm, causing grievous bodily harm by an unlawful action, and causing grievous bodily harm with intent to do so.
He has been held in custody since police arrested him after the alleged attack.
For the full story go here:
http://www.northernstar.com.au/story/2011/08/17/psych-test-for-gilmore-accused/
For older stories go here:
Gilmore opens up about attack

http://surftweeters.com/gilmore-opens-up-about-attack/
Four-time World Champion Stephanie Gilmore was attacked with an iron bar
http://surftweeters.com/world-champ-gilmore-attacked-and-injured-with-iron-bar/
Stephanie Gilmore Releases Official Statement After Assault
http://surftweeters.com/stephanie-gilmore-releases-official-statement-after-assault/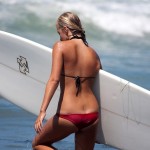 Become A Sponsor!
If you have a product or service that is a good fit for our surf community, we have opportunities for you to sponsor this blog!
Download our media kit now!