VIA – OC REGISTER
Published: Feb. 27, 2013 Updated: Feb. 28, 2013 2:44 p.m.
Kenna Florie, VP of Sales and Marketing for Quiksilver Women's Division, holds up the award for Women's Apparel Brand of the Year as Director of Marketing Anna Sherwood looks on during the 2012 SIMA Awards at the City National Grove of Anaheim earlier this month. – See more at: http://www.ocregister.com/articles/quiksilver-497585-women-surf.html?utm_source=dlvr.it&utm_medium=twitter#sthash.ybNsPJ0y.dpuf
By LAYLAN CONNELLY and LISA LIDDANE / ORANGE COUNTY REGISTER
Quiksilver Inc. will discontinue its Quiksilver Women's and Girls' lines, according to two local retailers who carry the surf brands.
Huntington Surf and Sports and Surfside Sports were notified of the elimination this week by representatives for the Huntington Beach-based apparel company.
The move is the first major change since the company brought in a new CEO, Andy Mooney, to replace founder Bob McKnight. The news comes just a month after the Surf Industry Manufacturing Association Image Awards honored Quiksilver Girls as the women's apparel brand of the year.
Quiksilver officials declined this week to comment on the change.
Huntington Surf and Sport owner Aaron Pai said he was surprised at the move, noting that the Quiksilver Women's line showed a sizable increase in sales last year compared to other brands.
"Quiksilver is trying to strengthen their business overall. The Quiksilver Women's line really did pretty darn good," Pai said. "But these are tough times and companies have to do what they have to do in order to get stronger."
Duke Edukas, co-owner of Surfside Sports stores, said that Quiksilver representatives are meeting this week with Meredith Peterson, the retailer's women's buyer, to discuss options after the last Quiksilver Women's merchandise is delivered for summer.
The Quiksilver Women's may have been overshadowed by Roxy, the company's popular women's and girls' line.
That overlap is a factor that Quiksilver Inc. executives most likely considered when evaluating its divisions, said David King, senior research analyst at Roth Capital Partners. "This is part of the new management team's strategy – to close or review underperforming operations and focus on the core brands – Quiksilver men's, Roxy and DC," he said.
Quiksilver Women launched in 2008, focusing on…
For the full article go here:
http://www.ocregister.com/articles/quiksilver-497585-women-surf.html?utm_source=dlvr.it&utm_medium=twitter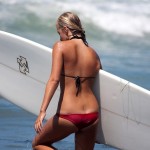 Become A Sponsor!
If you have a product or service that is a good fit for our surf community, we have opportunities for you to sponsor this blog!
Download our media kit now!