VIA ESPN


Riding with the king

Kelly Slater eyeing potential Hurley Pro title as he rolls through round four

By Jake Howard
ESPN Action Sports
Updated: September 20, 2011, 11:36 PM ET
Adriano, you fool! Don't you know you don't give the champ reason to try. We had a perfectly good little surf contest going down here at the Hurley Pro before you went and fired up Kelly. Now nobody has a chance.
Tuesday at Lowers was more or less standard operating procedure until about 3:00pm PST, when Adriano De Souza out flanked Taj Burrow for the winning wave in their round four heat. Kelly Slater was in the channel paddling out for his heat, and maybe caught in the moment, De Souza shared some words with Slater. Slater countered with some splashes and a few words of his own. That was the only inspiration the 11-time world champion needed to unload on Josh Kerr and Heitor Alves, a performance that earned him a berth into the quarterfinals.
By the time both De Souza and Slater were on camera for their post heat interviews they shrugged it off as nothing more than heat-of-battle banter — but given the competitive nature of each, the incident won't be forgotten tomorrow when the Hurley Pro conceivably comes to a conclusion.
"He's passionate," concluded Slater, who spent most of his day hanging on the second floor of the VIP area, watching both the waves and his competitors. The past couple of days he's been riding a standard three fin set-up that appears relatively conventional by his standards, even with a smaller-than-normal trailing fin. It'd be hard to disagree that the thing has been looking pretty close to magic under his feet.
For all the awesome photos and the full article go here:
http://espn.go.com/action/surfing/story/_/id/6997979/slater-prime-position-capture-hurley-pro-title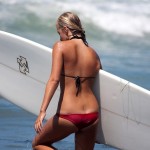 Become A Sponsor!
If you have a product or service that is a good fit for our surf community, we have opportunities for you to sponsor this blog!
Download our media kit now!