VIA – HUFF POST
Posted: 04/10/12 12:50 PM ET | Updated: 04/10/12 01:28 PM ET

Rob Lowe On California's Best Beaches, In-N-Out & His Favorite California Songs (VIDEO)
Kate Auletta
Rob Lowe — he of "Parks and Recreation," "The West Wing" and "St. Elmo's Fire" — has been enlisted by the state of California to be their "Official 'Unofficial' California Tour Guide."
Lowe moved to California in 1976 and he knows his way around the state. The actor has begun to create webisodes of his favorite drives, snow spots and food destinations around the state for VisitCalifornia.com.
In a phone conversation, he told Huffington Post Travel, "You could spend a lifetime in California and never really see all of it. Monterey is the single most beautiful coastline and geography I've seen."
He also discussed his favorite surfing spots (check him out surfing here), go-to drives and whether In-N-Out really is the best burger.
Huffington Post Travel: How did you get involved with Visit California?
Rob Lowe: My affiliation started when Governor Schwarzenegger and Maria Shriver asked me to join them in the very first Visit California. I felt so good about it, because I love my state that we've stepped it up this year and really expanded it mostly with the website and the films and the commercials, which I get a kick out of. For California [tourism] is a big deal because we have over 900,000 jobs just in California in tourism. So as every state is trying to inject its economy, to inject the tourism economy in California is massive for citizens here.
HPT: What are your favorite surfing spots?
RL: For flat out surfing, my neighborhood break, Rincon Point in Santa Barbara, Surf Magazine voted it the #1 wave in the entire United States. Malibu Point where the Malibu Pier is, is a great wave, it's very, very crowded but it's great for kids and is very iconic. If you're going to come to one place and get your picture taken, you gotta go to Malibu Beach. I love the beaches around San Diego. Up north, Patrick's Point is an agate beach, and you can collect right there on the beach and it's pretty extraordinary. You've got to be a lunatic if you go out there, to surf there. We're talking 20 foot waves that will break your skull open. That is just majestic beauty at its finest.
HPT: You must just live outdoors.
RL: I surf year round. My break is a winter swell break and then as the summer transitions, it's more Malibu. But Mammoth Mountain will have snow some years into June. It's hard core, great snow. One of my favorite things to do is to ski and surf in the same day.
HPT: You've mentioned that your favorite drive is the stretch from Point Sur to Monterey. Why?
RL: It's been photographed a billion times, you've seen it in every movie and there's a reason you've seen it. It's the most iconic moment of Americana that you can have. You're in the rugged wilderness, it's freedom. California means freedom; that's why the state has always spoken to me. That drive is the ultimate California experience.
HPT: You've said that you love Palm Springs for that old Rat Pack-y feel. Where do you go to recapture that feel?
RL: My new obsession is I want to go to the new Annenberg Estate. It was a private home that all of our great political leaders over the years went to that is now open to the public. The decor is so stuck in time with Jackie Kennedy sort of 60s Rat Pack era.
HPT: Is In-N-Out really the best burger?
RL: If you really want to know, and you've gone right to my obsession…
For the full article go here:
http://www.huffingtonpost.com/2012/04/10/rob-lowe-visit-california_n_1414600.html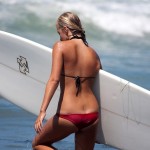 Become A Sponsor!
If you have a product or service that is a good fit for our surf community, we have opportunities for you to sponsor this blog!
Download our media kit now!