VIA – GOTHAMIST


Rockaway Surfers Psyched For Big Hurricane Irene Waves
While the rest of the city is busy fighting tooth and nail for Duane Reade's last flashlight, a handful of radical surfing dudes are totally psyched for Irene, and the killer waves she's bringing with her.
"People usually run away from the hurricane—surfers run toward the hurricane," one Rockaway Beach surfer told the Daily News. "There's big waves coming in," said another. "You can actually have some fun out there." The owner of Boarder Surf Shop said people have been coming in to rent boards for the five-foot swells: "They want to say they surfed Irene."
Last year, New York surfers caught the good vibes from Hurricane Igor. Hey, as long as they don't turn out like this guy, we're all for it:
For http://gothamist.com/2011/08/26/rockaway_surfers_psyched_for_big_hu.phpthe original post go here: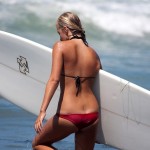 Become A Sponsor!
If you have a product or service that is a good fit for our surf community, we have opportunities for you to sponsor this blog!
Download our media kit now!