VIA – SANTA CRUZ SENTINEL
Bill Lovejoy/Sentinel Dave Johnston drops into a thick Steamer Lane wall during the high performance semifinals Sunday morning.
Kayak festival entrants treated to ideal surf conditions
Posted:   03/18/2012 11:06:08 PM PDT
The air is frigid, the wind howling, and somehow Dennis Judson is walking around in a soaking wetsuit, oblivious to Mother Nature's vicious bite Sunday.
Judson isn't cold for a number of reasons. First off, he's been running around like a chicken with his head cut off making sure the 26th annual Santa Cruz Kayak Surf Festival runs smoothly, and to add to that, he just came in from a heat in the Masters division, where he placed second. Talk about a multitasker.
"This weekend we've gotten Steamer's at its best, smooth and glassy 10-footers," Judson said as he came in from surfing his heat.
After Saturday's wet weather, Sunday served as the perfect wrap-up for the international contest, which brings athletes from all over California, Idaho, Britain, and even Brazil to test their mettle in the frosty, and at times, moody seas of Santa Cruz.
"Today was a hangover from yesterday," Judson laughed.
"But that's what competitive surfing is all about, getting presented with surf, be it junky, glassy, or perfect, and dealing with it the best you can."
Bill Lovejoy/Sentinel Anthony Vela slides through some Steamer Lane froth during the paddleboard competition Sunday at Steame Lane.
It was clear that yesterday's storm had some residual effects of the ocean. The water was a dark emerald green, and the currents were pulling at ferocious speeds. Not to mention the surf. On some of the set waves, the relentless offshore wind would blow a giant mohawk on the already 6-8 foot face waves.
With the waves breaking all the way across to the inside sandbar known as Indicators, some kayakers used…
for the full article go here:
http://www.santacruzsentinel.com/sports/ci_20202736/kayak-festival-entrants-treated-ideal-surf-conditions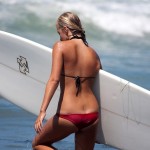 Become A Sponsor!
If you have a product or service that is a good fit for our surf community, we have opportunities for you to sponsor this blog!
Download our media kit now!