VIA – LOS ANGELES TIMES
Santa Cruz seeking mementos of Jack O'Neill's 1959 surf shop
Jack O'Neill's surf gear empire grew from this 1959 surf shop in Santa Cruz. His sons, Pat and Mike, are shown on skateboard at right. (Santa Cruz County CVC/O'Neill Archives)
By Mary Forgione Los Angeles Times Daily Travel & Deal bloggerJuly 11, 2012, 5:15 a.m.
There's no there there — yet.
Wetsuit pioneer Jack O'Neill's 1959 Surf Shop was the startup of its day. The 500-square-foot spot adjacent to Cowell Beach in Santa Cruz, where he once sold "thermal barrier" suits, was declared a California Point of Historical Interest last month. The building no longer stands and, so far, the space remains a memory.
Santa Cruz city leaders are asking folks for photos and information to be included in an "interpretive signage project" to mark this bit of surf history in the Central California town. (Send info to [email protected])
"What started out as a way to catch as many waves as possible has turned into a life I could not have even dreamed up," O'Neill said in a statement. O'Neil stilll lives in Santa Cruz and marks 60 years in the business. (He started a shop in 1952 in San Francisco).
Nomination papers for the historical nod are filled with interesting surf tidbits such as the fact that three brothers, nephews of Hawaii's Queen Kapiolani, showed off their board skills by riding the waves of Main Beach on July 20, 1885…
For the full article go here:
http://www.latimes.com/travel/deals/la-trb-oneill-santa-cruz-historic-marker-20120705,0,3569986.story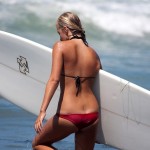 Become A Sponsor!
If you have a product or service that is a good fit for our surf community, we have opportunities for you to sponsor this blog!
Download our media kit now!