VIA – KSBW


Santa Cruz Surfers Stoked On Massive Swell
By Amy Larson, KSBW.com
POSTED: 6:01 pm PDT September 1, 2011
UPDATED: 7:23 pm PDT September 1, 2011
SANTA CRUZ, Calif. — Santa Cruz's surfers are totally mondo stoked.
Massive waves that surfers have waited for all summer arrived Thursday afternoon, breaking between 6 to 8 feet high.
Word quickly spread on the strong south swell, and wave riders flocked to surfing hot spots at Pleasure Point in Capitola and Steamer Lane on the west side.
The waves were so big that the Santa Cruz Harbor's boat launch was closed Thursday morning, and will remain closed until the waves flatten out.
Ocean lovers stuck working in the office Thursday don't have to feel bummed out.
According to Surfline.com, the swell is going to get even bigger, generating waves between 6 to 10 feet on Friday and Saturday.
Adding to the surfing nirvana is a sunny weather forecast. Temperatures will rise to a high of 80 degrees on Friday and stay nice and warm Saturday at 78 degrees, forecasters said.
The swell is expected to lose strength Sunday, but will still power respectable 4 to 6 foot waves.
Beach-goers who are not expert swimmers should be very cautious when venturing into the water this Labor Day weekend, authorities said. Ocean rescues already happened at three Santa Cruz County beaches on Thursday.
In Huntington Beach, a body-boarder who was out in 9 foot waves with friends vanished Wednesday, the U.S. Coast Guard said.
Rescuers still had not found the body-boarder, Jowayne Binford, as of Thursday night. There was no rip current in the area where he disappeared.
For the full Santa Cruz surf report go here:
http://www.ksbw.com/r/29055761/detail.html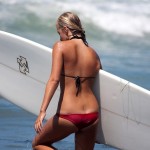 Become A Sponsor!
If you have a product or service that is a good fit for our surf community, we have opportunities for you to sponsor this blog!
Download our media kit now!