Definitely want to swim with one of these before I die…
VIA – DAILY MAIL
"Things are getting ugly: The whale shark has an insatiable appetite for plankton – and the kind of face only its mother could love"
Say aaaaahhh! How world's biggest shark (thankfully) finds small fry like humans hard to swallow
By Daily Mail Reporter
Last updated at 1:53 PM on 29th September 2011
It's got jaws that could easily swallow a diver whole – but thankfully humans are definitely not on the menu for this monster of the deep.
The whale shark is the largest shark in the world, growing up to 40ft long with a mouth that's 4ft 9ins wide. But despite their enormous size, they have no teeth and live almost entirely on microscopic plankton.
Fearless Devon photographer Warren Baverstock captured these amazing images while working with a scientific survey team in the Indian Ocean, just north of Somalia.
'I jumped in alongside the shark and was surrounded by plankton,' said Warren, 42. 'Suddenly another shark came into view being trailed by five members of the team all trying to keep up.
'I began to snap away with my camera right at the mouth of this giant. I was privileged to watch the plankton being gulped down while all the time its gills pumped for its next intake of food. After a while, the bloom of plankton moved off with the current – and so did my shark.'
"All jaws: The worlds largest shark gives a jaw-dropping view of a giant mouth that grow nearly 5ft wide and lives in the Indian Ocean, near Somalia"
Warren, who lives in Plymouth, had joined scientists from the Marine Conservation Society Seychelles to measure and picture the fish. The giants are only found in warm waters and live to around 70 years old, migrating back and forth around the globe.
They suck in water to filter-feed on plankton and fish eggs in what is known as 'ram-feeding'. And the only danger to divers is being caught by an unintentional swipe of their tail.
Indeed, it might have been riskier for Warren on land. The area where…
For the full article go here:
http://www.dailymail.co.uk/news/article-2043235/Worlds-biggest-shark-finds-small-fry-like-humans-hard-swallow.html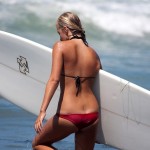 Become A Sponsor!
If you have a product or service that is a good fit for our surf community, we have opportunities for you to sponsor this blog!
Download our media kit now!