VIA – EXAMINER
Sea Shepherd to benefit from skateboard line in time for holidays

Gillean Smith
, Sea Shepherd Conservation Examiner
December 7, 2011
Sea Shepherd Conservation Society, the marine wildlife conservation nonprofit and focus of the Emmy nominated docu-reality TV series Whale Wars, has teamed up with popular board sports lifestyle brand Sector 9, a subsidiary of Billabong International, to rollout a line of three marine wildlife-themed skateboards for U.S. and international markets. This partnership underscores Sea Shepherd's appeal within the environmentally aware surf, skate and snowboarding communities and is amongst the first of what the organization hopes will be more cooperative ventures with major brands.
Currently for sale in Sea Shepherd's U.S. estore, the skateboards will be available internationally in time for the holiday season including on Sea Shepherd's UK, Europe, and Australian estores. Additionally, a percentage of every sale will go towards Sea Shepherd's mission of defending ocean wildlife worldwide.
Besides being durable and eco-ethical, Sector 9's Sea Shepherd skateboards are connected to Sea Shepherd by their distinctive marinelife designs. Sector 9 has three lines that include:
The "Jolly Roger Street Skate:" Inspired by Sea Shepherd's fierce commitment to halt illegal whaling in Antarctic waters, this board features Sea Shepherd's custom Jolly Roger logo created by Dutch artist Geert-Jan Vons and co-designed with Sea Shepherd Founder and President Captain Paul Watson. The Jolly Roger logo represents the good pirates (Sea Shepherd) who pursue the bad pirates (drift netters, whalers, sealers, poachers, etc). The logo's intricate design includes a shepherd's staff, which signifies the way Sea Shepherd guards and protects our oceans, and Neptune's trident, which symbolizes the organization's interventionist approach. The skull denotes the death that humans inflict on the creatures of the sea. It is further detailed with a dolphin and whale "yin yang" symbol to represent the natural balance of the oceans when free from human interference. A great board for skate parks, street skating, and technical tricks, it retails for only $55 (board only).
The "Eternal Mini:" This skateboard design features custom artwork created by world acclaimed designer and artist Dave Kinsey (http://www.kinseyvisual.com). Kinsey's painting, "Eternal," was inspired by a photograph of Captain Paul Watson taken by Sea Shepherd helicopter Pilot Chris Aultman. The painting questions the morality of whaling in the 21st century and drives home that extinction is forever. This is a signature Kinsey board, an honor the artist granted in support of Sea Shepherd's marine conservation mission. A great board for beginners, it retails for $130 cost (complete board).
The "Sea No Evil Pintail:" This skateboard features custom artwork created by Monster Media (http://www.monstermediainc.com) for one of Sea Shepherd's biggest annual events, the Sea No Evil Art Show in Riverside, Calif., benefiting the organization's various initiatives to preserve and protect the oceans of the world. The artwork features a majestic humpback whale in shades of blue accented with white and encircled by a neon streak of light on a black background. A solid entry level board for the person just getting into riding longer skateboards, it will still glide through the quality turns a more experienced rider will put it through. The board retails for $165 cost (complete board).
"Sector 9 is excited to be teaming up with Sea Shepherd on this significant and timely project," said EG Fratantaro, Marketing Director of Sector 9. "The skate community cares deeply about conservation issues, so it's only natural we'd want to appeal to that interest by offering a line of sturdy and stylish boards that not only ride as great as they look, their purchase helps save ocean wildlife."
In keeping with its corporate mission…
For the full story go here:
http://www.examiner.com/sea-shepherd-conservation-in-national/sea-shepherd-to-benefit-from-skateboard-line-time-for-holidays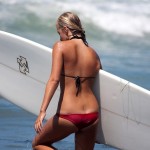 Become A Sponsor!
If you have a product or service that is a good fit for our surf community, we have opportunities for you to sponsor this blog!
Download our media kit now!