VIA – PACIFICA PATCH

Share: Oceana High School Gets a Mavericks Movie Makeover
By Camden Swita
4:34pm

An "Of Men and Mavericks" movie shoot occurred at Oceana High School Wednesday, Oct. 26. Credit: Candace McDonald
"Of Men and Mavericks" cast and crew took over the east parking lot at Oceana High School Wednesday to shoot scenes for the film about Jay Moriarity's conquest of the surf break at Mavericks in Half Moon Bay.
Besides populating the school grounds with young extras dressed in '90s clothing straight out of a live Nirvana video, the film crew temporarily renamed Oceana "Ocean High School" and planted a sign at the south entrance to the building to prove it.
And, in order to pull off a stunt involving a school bus and skateboards, crews modified a stock bus to look just like one of Jefferson Union High School Districts.
VIntage bikes and skateboards were also in abundance Wednesday.
It was the second day of shooting in Pacifica. On Tuesday, Gerard Butler, who plays Jay's mentor, and Jonny Weston, who plays Jay, spent time on Linda Mar Beach as they acted out pieces of Moriarity's life.
Filming also took place inside the high school building…
For the full story and all the photos go here:
http://pacifica.patch.com/articles/oceana-high-school-gets-a-mavericks-movie-makeover#photo-8243360
For more articles on 'Of Maverick's and Men' go here:
http://surftweeters.com/?s=jay+moriarty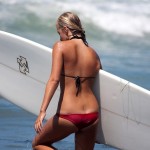 Become A Sponsor!
If you have a product or service that is a good fit for our surf community, we have opportunities for you to sponsor this blog!
Download our media kit now!