VIA – SANLUISOBISPO.COM
Shark reportedly spotted in waters off Pismo Beach
Posted: 12:19 pm Wednesday, Aug. 03, 2011
By Cynthia Lambert | [email protected]
Warnings will be posted at the beach in Pismo Beach after a shark sighting was reported Tuesday afternoon, according to Cal Fire officials.
Two surfers reported seeing a shark about 2:30 p.m., which has been confirmed as a credible sighting, said Cal Fire communications operator Eryn Tsudama. The warning will be posted at the beach for three days, she said. Beaches remain open, officials said.
The surfers said they saw a dark silhouette about 12 feet in length outside the surf line near the Pismo Beach pier. The surfers were located about 30 yards from the beach, and seals were reported in the area as well.
http://www.sanluisobispo.com/2011/08/03/1705551/shark-sighting-pismo-beach.html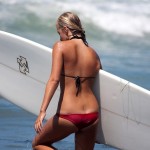 Become A Sponsor!
If you have a product or service that is a good fit for our surf community, we have opportunities for you to sponsor this blog!
Download our media kit now!