VI – COFFS SCOTT ADVOCATE
Shark sighting at Sawtell beach
11th March 2012
A SHARK sighting on Saturday morning has had surf lifesavers at Sawtell Beach keeping a vigilant watch all weekend.
The unidentified shark was spotted on occasions late last week but when it was seen by keen surfer Mark Hodgson from Sawtell's Sunpatch Surf Shop early on Saturday, the beach was closed for approximately 30 minutes.
Sawtell surf lifesavers who were on patrol in the morning took to the water in their IRB's as another beachgoer also reported seeing a shark in the water.
This is standard practice as the noise of the boat's engines in the water drives sharks and other marine life away.
Patrol members in the IRB's reported that they didn't see what is believed to be a juvenile great white but the breed of the shark is yet to be confirmed….
For the full article go here:
http://www.coffscoastadvocate.com.au/story/2012/03/11/shark-sighting-sawtell-beach/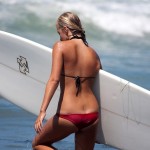 Become A Sponsor!
If you have a product or service that is a good fit for our surf community, we have opportunities for you to sponsor this blog!
Download our media kit now!