VIA – BLEACHER REPORT
Shaun White's X-Rated Photos Need to Stay Unpurchased
By
Richard Langford
(Featured Columnist) on December 5, 2011


All I want for Christmas is for naked pictures of Shaun White to stay unpurchased and unpublished.
I don't want to surf the web in constant fear that I may accidentally click the wrong link and see a naked Shaun White on top of a lady turning to the camera and smiling.
Unfortunately, this horrifying future is one we all face.
TMZ is reporting that a photo, much like the one above but without clothes, is being shopped around to the highest bidder.
According to TMZ, there are two photos. One is of a fully clothed Flying Tomato making out in a room of people, and "the other pic shows Shaun with the same woman—sans clothes—in the middle of a missionary-style embrace on a bed…with Shaun grinning at the direction of the camera."
The photos were allegedly taken at a hotel party after White won the 2009 Winter X-Games gold medal for Superpipe.
Apparently there were several people snapping pictures, but people close to White were "running damage control" and urging people to erase the pics.
What kind of party was this? I don't mean the naked exploits. I mean who was attending? Was this just open to anyone at the hotel? Obviously there were people in attendance that aren't close friends with White, or we wouldn't have this picture problem.
And what a problem it is. For now we can rest secure in the knowledge that no one has offered enough for these pictures to become public. At some point, though…
For the full article go here:
http://bleacherreport.com/articles/969699-shaun-whites-x-rated-photos-need-to-stay-unpurchased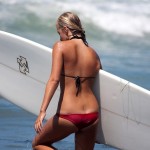 Become A Sponsor!
If you have a product or service that is a good fit for our surf community, we have opportunities for you to sponsor this blog!
Download our media kit now!