Brad Hughes 2 Wave Hold Down at The Right
by Slicks and Decks
3 hours ago
Brad Hughes 2 Wave Hold Down at The Right from Slicks and Decks on Vimeo.
"slicksanddecks.com are happy to show that team rider Brad Hughes walked away (on a jetski) from a brutal 2 wave hold down at The Right on Oct 16. Whilst being held under for just over 30 seconds Brad frightfully revealed that he had given up and thought it was all over. The raw power of the wave held Brads Hot Buttered bodyboard under the water which prevented him from surfacing. Usually in big waves you can climb up your leash as your board is normally above you, but in this rare instance the leash was preventing Brad from surfacing. While he struggled to remove his leash Brad used excessive energy, and when the second wave hit he had given up hope. "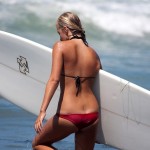 Become A Sponsor!
If you have a product or service that is a good fit for our surf community, we have opportunities for you to sponsor this blog!
Download our media kit now!