VIA – BOSTON HERALD
Singer Jack Johnson grants boy's Christmas wish
By John Zaremba
Sunday, December 18, 2011
Surf-folk singer Jack Johnson brought some Southern California sunshine into the lives of a 6-year-old Children's Hospital Boston patient and his family yesterday, fulfilling the boy's foremost Christmas wish by giving him a private webcast concert and calling him "a very brave boy" for battling a rare heart defect.
Speaking via Skype from Santa Barbara, Calif., Johnson, a father of three young children, treated Ethan Lindberg, his family and his caretakers to a casual chat, a laid-back, strummy version of "Rudolph the Red-Nosed Reindeer" and a selection of other similarly soothing songs.
"Ever since he was a baby — he's had six heart surgeries, and the first was when he was five days old — he's just always been drawn to it," his mother, Jessica Lindberg, said of her son's love for music — particularly Johnson's beach-bum brand. "Music has been that thing for him, to draw him out of fear."
Ethan was diagnosed before birth with aortic stenosis and evolving Hypoplastic Left Heart Syndrome, a rare congenital heart defect.
His parents moved from western Illinois to Boston to seek treatment at Children's, and the family, which recently celebrated the arrival of a third son, was featured by Herald columnist Jessica Heslam earlier this week.
The family had mentioned that Ethan wanted to meet Johnson, a multi-platinum singer-songwriter whose kid-friendly vibe and work on the "Curious George" soundtrack has made him a huge hit with children. One of the singer-surfer's relatives spotted the story, leading to yesterday's web jam…
For the full article go here:
http://bostonherald.com/news/regional/view/2011_1218heart-to-heart_singer_grants_boys_christmas_wish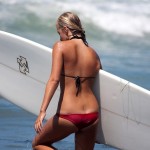 Become A Sponsor!
If you have a product or service that is a good fit for our surf community, we have opportunities for you to sponsor this blog!
Download our media kit now!