Compassion is what makes the world go round and civilizations advance, in youth it shows itself in the purest forms…
VIA – COURIER PRESS
Six-year-old tries coping with 'Soul Surfer' girl's injuries
Posted May 26, 2012 at 3:38 p.m., updated May 26, 2012 at 3:38 p.m.
Six-year-old Maddie Royster, daughter of Richard and Terry Royster of Lexington and granddaughter of Larry and Lu Royster of Henderson, had bugged her parents relentlessly to watch the movie "Soul Surfer," the story of surfer Bethany Hamilton who lost her arm in a shark attack.
After watching the movie, the little girl trotted off to get ready for bed, and then her dad waited and waited for her to call him to come blow-dry her hair.
Finally he went upstairs to find her standing in the bathroom with one arm still inside her pajama top.
"What are you doing?" Dad asked, already having forgotten about the movie.
"I'm trying to be like Bethany," Maddie replied…
for the full story go here:
http://www.courierpress.com/news/2012/may/26/six-year-old-tries-coping-with-soul-surfer-girls/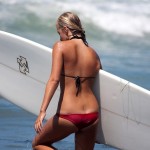 Become A Sponsor!
If you have a product or service that is a good fit for our surf community, we have opportunities for you to sponsor this blog!
Download our media kit now!