VIA UTAH SKI AND SNOWBOARD
Snowboarder Dies in Avalanche in Canyons Sidecountry
Published on Friday, February 24, 2012 – 11:10 AM
Park City, UT – A late afternoon avalanche claimed the life of a 24-year-old snowboarder on Thursday in the same out-of-bounds terrain at Utah's Canyons Resort that killed another rider seven years earlier.
Timothy Robert Baker, of nearby Salt Lake City, had left the patrolled and controlled terrain within the boundaries of Canyons via an access gate near the top of the resort's Ninety-Nine 90 lift to ride in Dutch Draw, a steep side canyon that sits in clear view of the lift only a couple of hundred yards away. Despite its proximity to in-bounds terrain and frequent use by Canyons skiers, Dutch Draw is considered backcountry and is not part of the ski area.
According to a preliminary report from the Utah Avalanche Center (UAC), the slide that killed Baker broke only 40 feet wide and one foot deep, and ran for 100 vertical feet, in sharp contrast to the 2005 avalanche that cleared nearly the entire bowl in Dutch Draw and killed snowboarder Shaine Maixner, of Sandpoint, Idaho. Several close calls have occurred in the area since then, but no fatalities have been reported until Thursday's incident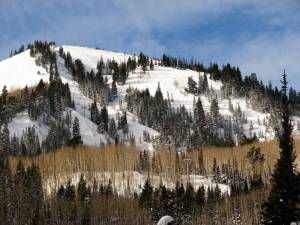 The Ninety-Nine 90 chairlift at Canyons Resort (FTO file photo: Marc Guido).
UAC investigators believe that Baker triggered a "graupel slab," formed when small snow pellets roll off cliffs and pool on the flatter terrain below them. The area had received several inches of the dense snow Wednesday night into Thursday morning. Thursday's slide carried Baker through some small trees and buried him under 3.5 feet of snow.
According to Summit County Sheriff's Office Sgt. Ronald Bridge, Baker was not wearing an avalanche transceiver at the time. Other nearby skiers located Baker on the slope with a northeast aspect in about 40 minutes, just as Canyons ski patrol arrived at the scene and began CPR. Summit County Sheriff's Office also deployed Search and Rescue to the scene. Baker was transported by helicopter to University Hospital in Salt Lake City, where he was pronounced dead.
"In January of 2005, an individual lost their life in a similar avalanche in the same location," Summit County Sheriff David A. Edmunds said in a news release issued Thursday evening. "The conditions in the backcountry this year are critically dangerous and we ask that people use caution when recreating."
It is not yet known whether Baker died of asphyxiation or trauma….
For the full article go here:
http://www.utahskiandsnowboard.com/index.php?name=News&file=article&sid=1206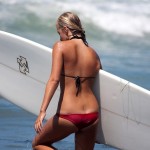 Become A Sponsor!
If you have a product or service that is a good fit for our surf community, we have opportunities for you to sponsor this blog!
Download our media kit now!