VIA – DAILY MAIL UK
Charged: Chris Northam, 25, was arrested Wednesday for shooting his father to death with a rifle in May of last year in Roseville, California
Son arrested eight months after he 'shot dead his extreme sports mogul father and then married a witness so she wouldn't testify'
Last updated at 5:41 PM on 23rd February 2012
The son of a wealthy extreme sports owner has been arrested for his father's murder, with police concluding that the motive was money.
Christopher Dale Northam, 44, was a budding sports mogul when he was found dead inside his extreme sports complex on May 30 of last year.
Police arrested his 25-year-old son, Christopher Jon Michael Northam, for premeditated murder after a long and exhaustive investigation.

They believe that the son was 'lying in wait' for his father at the skateboarding park in Roseville, California, before shooting him multiple times with a rifle.
The investigation took eight months and, in the end, police were able to conclude that the junior Northam, who goes by Chris, was in the complex at the same time as his father using Wi-fi and cell phone records.

The elder Mr Northam was the owner of Skim X, a company that specialized in the sport of skim boarding where participants glide over water while standing on a very thin, short surfboard.
While police have concluded that the murder was financially motivated, it is unclear how much the son stood to make off of his father's death, especially since the son was already an officer in the company.

Before concluding that Chris was responsible for his father's death, detectives had to rule out a bevy of disgruntled investors, which also contributed to the length of the investigation.

'We want the people so bad,' Mr Northam's father Michael told a local news station in September- when police still hadn't arrested anyone in connection to the murder four months after the fact.
At the time, Michael had no way of knowing the person they would charge would be his own grandson.

'We wanted to rule out as many people as we possibly could,' Roseville police lieutenant Mark Toubin said in a press conference on Wednesday after the arrest.
Runs in the family: Both the senior (left) and junior Northam's loved extreme sports, and the father and son are seen riding a motorcycle together when Chris was just a child (right)
'(Skim X) was constantly seeking new investors,' Mr Toupin continued.
'At various points, the business had financial problems.
'A number of his business dealings were a little bit contentious, and we had to talk to those various suspects in the case and rule them out.'
At the time of the murder, Chris was said to be in debt and behind on his rent.
Police also arrested Chris' ex-wife Averill Elizabeth Easley, 34, as an accessory to murder after the fact because she gave false information to the police during her interviews and they say that slowed the investigation down.
When Mr Northam was killed, Easley and the junior Northam were dating.
Contentious couple: Easley (left) filed a restraining order against Northam (right) in December saying that the only reason they got married was so that she wouldn't be required to testify against him about the murder…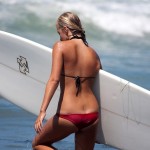 Become A Sponsor!
If you have a product or service that is a good fit for our surf community, we have opportunities for you to sponsor this blog!
Download our media kit now!