Credit : Walbrick/rip curl
Uk version
SOUL SURFER BETHANY HAMILTON RE-SIGNS WITH RIP CURL INTERNATIONAL
Rip Curl International announced today that the surfing brand has happily re-signed Hawaiian professional surfer and long-time team rider Bethany Hamilton.
Hamilton, who courageously returned to surfing after surviving the loss of her left arm in a 14-foot tiger shark attack while surfing off Kauai's North Shore in 2003, is the world's most recognised surfing figure, remaining a source of inspiration to millions of people around the world through her story of survival, faith, determination and hope.
Video: http://www.youtube.com/watch?v=JD0mZL-tksQ
Fr version
BETHANY HAMILTON PROLONGE SON CONTRAT AVEC RIP CURL INTERNATIONAL
Rip Curl International annonce aujourd'hui avec joie la prolongation du contrat de la surfeuse professionnelle hawaïenne Bethany Hamilton.
Bethany, qui avait courageusement repris le surf après avoir survécu à l'attaque d'un requin tigre de 4m sur le north-shore de Kauai en 2003, est certainement la surfeuse la plus populaire du monde et une source d'inspiration pour des millions de gens touchés par son histoire, sa persévérance et son talent.
Video : http://www.youtube.com/watch?v=JD0mZL-tksQ
Julie Pollet
Marketing services – Digital
Rip Curl
407, avenue de la Tuilerie
40150 Hossegor
France
Phone: +33 (0)5 58 41 78 00
Fax: +33 (0)5 58 41 78 09
Mobile: +33 (0)6 99 92 24 21
www.ripcurl.com
GO ON …… SEARCH !!
Use of the RIP CURL trademarks by Rip Curl Pty. Ltd. under license from Rip Curl International Pty. Ltd.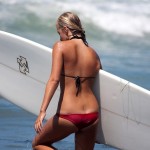 Become A Sponsor!
If you have a product or service that is a good fit for our surf community, we have opportunities for you to sponsor this blog!
Download our media kit now!