VIA – IOL NEWS
Centurion man attacked by shark
July 6 2012 at 08:48pm
By SAPA
Cape Town – A Centurion man has been attacked by a shark at Sandstrand near Cape Town, the National Sea Rescue Institute (NSRI) said.
"Police responded to the scene (on Friday) where the victim was found on the beach suffering two serious lacerations to his left upper leg and…. his left knee with serious blood loss," said spokesman Craig Lambinon.
The 29-year-old, identified as Jacque Mostert, was conscious.
File photo – Photo: Helen Bamford
"NSRI medics and a local doctor… treated the man on scene… an ER24 ambulance was summoned and the patient was transported to hospital in a serious but stable condition."
Mostert was surfing with friends when he was attecked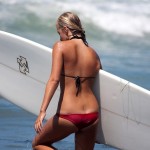 Become A Sponsor!
If you have a product or service that is a good fit for our surf community, we have opportunities for you to sponsor this blog!
Download our media kit now!