VIA – MEDIA UPDATE


Shape gets ready for spring with surf queen Roxy Louw
Published: 19 August 2011
Fresh from the waves, South African surfing icon and model, Roxy Louw, is the strong, confident and sexy cover girl on the September issue of newly revamped Shape Magazine, South Africa's top-selling health and fitness title for women. The spring issue exudes a dynamic new design, features and a host of experts for readers to top up their monthly fix of fitness and health.
According toShape editor, Tracy Melass, the new-lookShape is toned and buffed for spring, and is brimming with inspirational content that is practical for today's time-constrained woman. "We are keeping it real and down to earth with achievable every-day health and fitness-focussed material."
"No one represents the kind of realistic healthy and fit lifestyle we love to advocate more than Roxy Louw, who besides personifying the credo that 'beauty is more than skin-deep', is a walking, talking spokeswoman for a balanced and healthy lifestyle," adds Melass.
Behind the striking cover is a feature on Louw, who says: "I'm happy with my body now. I've made peace with it." Louw will also showcase a collection of active gear in a four-page fashion spread. From September, Shape readers will be treated to an interview and fashion spreads on all the magazine's cover stars.
In the article, Roxy speaks candidly about her healthy eating choices, which have been shaped by her famous rugby playing father Rob Louw's bout with cancer, as well as how she manages to stay fit and sane despite the jet-setting life she leads. A food-lover through and through, Roxy shares her recipe for Sushi Salad, and comes clean on her addiction to Kauai carrot and beetroot juice (with extra celery and cucumber nogal) — all the kind of details that readers are hungry for.
Useful and packed with vital information, the new Shape is full of other surprises, like "Shape your Life", a new section devoted to emotional wellness, 'Live Healthy', 'Get Fit' (which includes a look at the hot new trend of Aerial Yoga) and 'Look Great' (with sound beauty info for busy women).
The September issue also features a 'Happiness Guide', which is an uplifting collection of relevant tips and creative how-to's geared towards helping us live a happier life.
As we all know, you are what you eat, and the 'Eat Right' section, now edited by top culinarian and food journalist Tamsin Snyman, dishes up morish morsels that even the busiest woman can find time to cook; all healthy, nutritious and food for the waistline, of course. "Snyman's passion for good food and enthusiasm for eating well will no doubt inspire Shape
readers to spend time in the kitchen, which we all know is good for both the body and the soul," says Melass. Snyman has even turned the constraints of wheat-free, sugar-free, and dairy-free eating into something delicious, in the September issue.
A lively new twist to the section is a look at what 'real people' are eating with comments from local dieticians: South African biokineticist, adventure enthusiast and Survivor Contestant Letshego Moshoeu is September's subject of edible scrutiny.
While the magazine has the tremendous resources of the 'US mothership's' expertise to draw upon, the emphasis is on keeping the flavour South African, with lots of local content and a lekker homegrown attitude toward making health and fitness fit seamlessly into women's lives. South African women will regularly share their stories of adventure and good health, beginning in September with the weight-loss tale of actress Buyi Zama who plays Rafiki in 'The Lion King' and reader Lee Swann's heroic trip to the North Pole.
Because there's nothing more unique to South Africans than our sense of humour, Melass has added Kate Sidley to the Shape editorial team. Sidley is a feature writer, columnist and humorist widely published in leading newspapers and magazines — and her column entitled 'Shape Lite' will be a funny look at the exercise life. "People do take health and fitness terribly seriously," Sidley says, and as a self-professed hopeless gym bunny, she hopes to poke some fun at our attempts to stave off the ravages of age and hard-living.
The new Shape contains more than just a refreshing of content though. "Integral to the revamp is a new look that boasts bolder, fresher graphics with bite-sized chunks of smart information," says Melass. "Its tone is also fresher; more fun, informal, intelligent and humorous while remaining thought provoking and engaging," she adds.
Foremost, Melass says the relaunch has allowed the editorial team to build on the existing success of the Shape brand by continuing to produce top-class content that is expert-driven, accessible, and relevant to South African women, but with even more added value. Content will include more cross referencing to Shape's website and social networking platforms in addition to QR codes linked to features which readers can investigate further. Shape Editorial staff will also 'network' more with readers, with new blogs from Beauty Editor Elsa Kruger and Shape Editor Tracey Melass, who will be 'Taking the Leap' online.
"We all want to achieve optimal health and wellness, yet know how challenging this can be." says Melass. "Shape readers love the magazine because it seeks to redefine beauty in terms of fitness and health, rather than on being skinny and having good bone structure. By building on this core concept of making the best with what you've got, and adding new content to the mix, Shape can offer women even more practical solutions and inspiring advice to achieve their personal best."
For the original source go here:
http://mediaupdate.co.za/?IDStory=40508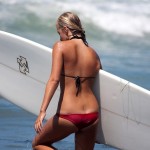 Become A Sponsor!
If you have a product or service that is a good fit for our surf community, we have opportunities for you to sponsor this blog!
Download our media kit now!