VIA – DAILY BREEZE


South Bay pop-punk innovators The Descendents play FYF Fest
By Ryan Ritchie
Posted: 09/01/2011 06:24:48 PM PDT
Updated: 09/01/2011 06:26:13 PM PDT
According to lyrics from a song named after the group, the Descendents "never did a popular thing."
But that was 1985 and this is now, when the South Bay pop-punk innovators are enjoying more success than ever. The band, led by Manhattan Beach native Milo Aukerman (vocals) and Hermosa Beach native Bill Stevenson (drums) – and featuring guitarist Stephen Egerton and bassist Karl Alvarez – are the headlining act at the FYF Fest, Saturday, at Los Angeles State Historic Park.
The event includes performances by newer bands such as OFF! (featuring former Hermosa Beach resident Keith Morris and Hawthorne native Steven McDonald), Death From Above 1979, Cold War Kids, No Age, Pink Mountaintops and Avi Buffalo, along with seasoned veterans such as Guided by Voices, the Weakerthans and the Dead Milkmen.
Beginning in the late 1970s at Mira Costa High School in Manhattan Beach, the original Descendents foursome – Aukerman, Stevenson, guitarist Frank Navetta (who died in 2008) and bassist Tony Lombardo – laid a foundation of melodic yet aggressive punk that can be heard in the likes of Green Day, blink-182, the Offspring, Rise Against and just about every other group that falls under the pop-punk tag.
Since then, the band has been on hiatus several times, often going many years without performing or releasing new material.
Although the Descendents issued "Cool to Be You" in 2004, the group didn't tour to support the album and performed
Advertisement
in concert only once between 1997 and 2010. But since returning to the stage about a year ago, the quartet has performed at festivals in Australia, Canada, England and Austin, Texas.
The Descendents are afforded the luxury of not having to be a full-time band because fans worldwide continue to relate to songs that touch all the bases of pubescent frustration.
Adolescent rage heard on the tunes "I'm Not a Loser," "I Don't Want to Grow Up" and "Tonyage" blend perfectly with the coming-of-age wonder and sarcasm found on "Statue of Liberty" and "Suburban Home." And "Hope," "Bikeage," "Sour Grapes," "Clean Sheets" and "Silly Girl" depict love, lust and heartbreak in a way that can only be told through a teenager's eyes.
Yet it is songs such as "My Dad Sucks" and the Navetta-penned "Parents" – in which Aukerman wails, "They don't even know I'm a boy/they treat me like a toy/but little do they know/that one day I'll explode" – that exemplify what it means to be an angst-ridden teenager.
Aukerman and Stevenson attribute much of their group's lyrical content (the band has released six full-length albums along with countless EPs between 1979 and 2004) to the fact that they were written during the members' adolescent years and that they are based on feelings of being outside the stereotypical cliques of the South Bay.
Although he was raised about five blocks from the sand, Aukerman says he never fell into the conventional South Bay scenes.
Now 48, the vocalist lives in Delaware and works as a research scientist studying plant genetics at DuPont. His day job and his distance from the other Descendents – Stevenson and Alvarez live in Colorado while Egerton calls Oklahoma home – is just one reason why Saturday's gig will be only the band's second Southern California appearance since 1997.
Similar to his bandmate, Stevenson says he was not the quintessential South Bay child.
"I surfed and skated, although poorly," . "I surfed but I wasn't a surfer. I didn't want to be part of a clique. It's not my thing. We were all just such outcasts and individualists that we never fit in. That just wasn't in our DNA."
However, Aukerman says, the isolation that came from living in the South Bay proved to be a positive influence.
"Hollywood had more of an English influence, but the South Bay had all these different, freaky bands," Stevenson says Aukerman says. "The scene was small and full of very enthusiastic people who supported and stood up for each other. No one cared about fashion in the South Bay. People looked at the English scene and yawned because it had no relevance, which translated into the music. Since there was no imitating of style, the music didn't have to be pigeonholed into that same sound that comes with fashion."
Stevenson returns to the region approximately three times a year while Aukerman says he makes an annual trek to visit family.
The South Bay that Aukerman and Stevenson knew as young men might not exist these days, but for the drummer, there are still plenty of locations that elicit teenage excitement when returning home.
"I have to go to Hermosa Beach, Captain Kidd's, Wienerschnitzel, Alfredo's, Tommy's, Tomboy's and King Harbor," Stevenson says. "Why does it always come back to food? What does that say about me?"
Ryan Ritchie is a freelance writer based in Torrance.
FYF Fest
What: Concert featuring the Descendents, Death from Above 1979, Guided by Voices, Cold War Kids, No Age, Kid Dynamite, the Dead Milkmen and others.
When: Noon Saturday.
Where: Los Angeles State Historic Park, 1245 N. Spring St.
Tickets: $40 to $99, through www.ticketweb.com.
Information: http://fyffest.com.
For the original post go here:
http://www.dailybreeze.com/lifeandculture/ci_18807878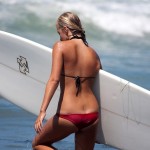 Become A Sponsor!
If you have a product or service that is a good fit for our surf community, we have opportunities for you to sponsor this blog!
Download our media kit now!