VIA – LI HERALD


Stack to face Slater in start of Quiksilver Pro N.Y.
September 4, 2011
Wildcard and Long Beach favorite to go against 10-time ASP champ in sixth heat
Anthony Rifilato
The two most talked about surfers in the Quiksilver Pro N.Y. competition – reigning 10-time ASP Champion Kelly Slater and hometown hero Balaram Stack – will face each other in the sixth of 12-round match-ups, or heats, in the opening round of the competition Monday morning.
Stack was named Quiksilver's wild card in July, and Florida's Asher Nolan, who clinched the coveted trials on Sunday, earned the second wild card entry into the contest, beating out Long Beach's T.J. Gumiela and Hawaii's Keanu Asing.
Asher will face Australia's Mick Fanning and Brazil's Heitor Alves in the fifth heat on Monday.
An ASP World Tour event consists of five rounds and a series of heats, followed by quarterfinals, semifinals and the finals. The winner will have surfed a minimum of six times, and possibly as many as eight times. When the season concludes in Hawaii, each surfer counts his eight best event results, and the competitor with the most ratings points from those events will be named world champion.
"I'm going to try and not worry about the pressure and stuff and stay focused on the surfing," Stack told the Herald in August.
The Quiksilver Pro New York is the sixth of 11 events on this year's ASP world tour. Stack, 19, who lives in Point Lookout, will be vying for an unprecedented $1 million prize purse, with the winner pocketing $300,000. And because he has been surfing in Long Beach his entire life, he said, he could have an edge against the world's elite surfers. "I know how to surf next to the jetties," he said. "It depends on the waves — if it's a man-on-man heat, you … hope for good waves."
Slater, 39, is coming off a fresh win in Tahiti last week that saw him vault into the lead on the 2011 ASP World Title rankings.
"It was definitely a special win for me, but there are several events remaining this season," Slater told the ASP. "I missed Jeffrey's Bay and I'm carrying a 13th from Brazil so I don't have any more opportunities for throwaways. It looks like we'll have some waves for New York which will be great. It will definitely be different."
The Quiksilver event could give Stack the confidence he needs to move up as a pro, said renowned professional big-wave surfer Peter Mel.
For the full story go here:
http://www.liherald.com/stories/Stack-to-face-Slater-in-start-of-Quiksilver-Pro-NY,35329?content_source=&category_id=5&search_filter=&event_mode=&event_ts_from=&list_type=&order_by=&order_sort=&content_class=&sub_type=&town_id=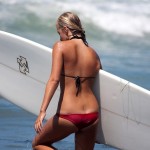 Become A Sponsor!
If you have a product or service that is a good fit for our surf community, we have opportunities for you to sponsor this blog!
Download our media kit now!