VIA – PALOS VERDES PATCH
Stay in Top Surfing Shape With These Tips
If you want to enjoy riding waves for life, it can take some work. Here are tips on staying in shape for lifelong surfing.
By Serge Dedina
6:00 amEditor's Note: A version of this article originally published on sister site Imperial Beach Patch. We decided to share the tips with Palos Verdes readers.

It used to be easy.

I could surf twice a day on my shortboard and never get tired.

My lower back didn't hurt, and I was skinny.

I started surfing at the age of 13. The surfers I hung out with were athletes who either played baseball or football, ran cross country or competed on the swim team. I swam and ran cross country.

During the 13 years I worked as an ocean lifeguard in San Diego County, I stayed in shape working with the UCSD master's swim team (the legendary mid-80s noon workout) and trained for and competed in triathlons with my lifeguard-surfer colleagues.

My fitness role models were San Diego surfer-lifeguards turned Ironmen, like Mark Allen and Scott Tinley.

After 34 years of surfing, things have changed. My boards are thicker and wider. After a long and strenuous surf session, my lower back hurts.

At 6-foot-4 and 210 pounds, it is just harder for me to surf than it was when I was 18, weighed 170 pounds and rode a 6-foot board.

The key to surfing well into middle age and senior citizen status isn't just an innate talent for surfing and catching waves that only gifted surfers ride (although of course that helps.)

Over the past few years due to the examples of Mick Fanning, Laird Hamilton, Kelly Slater, Gerry Lopez, Joel Parkinson, and the incredible staying power of Taylor Knox, fitness for surfers is now in vogue.

The key to surfing as long as you can is staying fit.

And not halfhearted fitness, but active exercise that works your core, builds your strength, and prolongs your endurance, so that surfing is fun and you can get the most out of your sessions.

The more you can cross-train and combine strength, core and aerobic activities, the better you'll be prepared for the epic swells the Pacific Ocean throws our way.

Here is a list of the best activities to keep fit and in top shape for surfing. I recommend combining a good aerobic activity (e.g. swimming and SUP) and a core/flexibility activity such as free weights or yoga.

Swimming: It seems so basic, but few surfers, with the exception of ocean lifeguards, seem to understand how helpful swimming is for surfing. You work your entire body and the same muscle groups as those used in paddling. I swim with a master's group three to four times a week and it is an essential part of my training. Join a local Master's program if you can.

Yoga: My good friend and veteran surfer big-wave surfer Richard Abrams told me once after a yoga class, "I wish I had started yoga when I was 15." There is probably nothing better for maintaining and improving flexibility than yoga. My WiLDCOAST team does an hour-long surf-yoga session twice a week during our lunch break. Our class is filled with surfers who've figured out that yoga is the key to longevity in the water.

Stand-Up-Paddle: There is a reason why so many surfers are now active on SUPs. It is a great workout, lots of fun, and arguably one of the best activities for building core strength and aerobic capacity. My buddy Mark "Kiwi" Fields, races SUPs and besides surfing, can be found in spin and weight classes at a local gym when he is not paddling around in the ocean.

Bodysurfing: This is about one of the best workouts possible. With a good pair of fins you'll be pushing yourself to the max, in addition to getting some of the best barrels of your life.

Weight training: As we age, our muscles atrophy and require weight training to maintain our strength, balance and build a defense against injury and stress. Squats are arguably the single best exercise for surfing that you can do. After reading surf scribe Daniel Duane's manifesto about free weights last year, I joined the local gym and started lifting. Over a year later, my surfing has improved, and more importantly, my back is hurting less after multiple sessions during a swell.

According to Duane, "Muscle withers…"
For the full article go here:
http://palosverdes.patch.com/articles/stay-in-top-surfing-shape-with-these-tips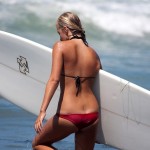 Become A Sponsor!
If you have a product or service that is a good fit for our surf community, we have opportunities for you to sponsor this blog!
Download our media kit now!