VIA – SUP CONNECT


SUP Man of the Year Award Winners
Monday, 08 August 2011 00:00
SAN DIEGO, California – This year, the competition for the SUP Man of the Year was stacked. We had stand up paddle athletes from around the world competing for the coveted title. France, representing the vanguard of stand up paddle, showed up in a huge way with Antoine Delpero and Eric Terrien taking a massive chunk of the overall votes.
The waterman tradition-rich islands of Hawaii brought strong candidates to the table with such athletes as Dave Kalama, Bart de Zwart and Aaron Napoleon. California, Florida, Australia and Brazil all had a shot at the title.
In the end, after the field was separated, it was France, Hawaii and Brazil that all take their rightful places on the podium; France taking 1st and 3rd place, Hawaii taking 2nd and 4th place and Brazil taking 5th place.
1st Place – Antoine Delpero
After a fierce neck-and-neck battle with second place Bart de Zwart, Antoine Delpero squeezed the needed support out of his home country of France to win this year's title of SUP Man of the Year. Hailing from Biarritz, Delpero honed his skills on a longboard before making the transition to stand up paddle.
In a sport that is unmistakably similar to longboarding, Delpero has been dominating the French stand up paddle circuit with a huge win recently at the Britany, France portion of the Stand Up World Tour. He rightfully takes his place as this year's SUP Man of the Year and joins Chuck Patterson, the 2010 SUP Man of the Year, at the top of an extremely competitive field of professional stand up paddlers.
2nd Place – Bart de Zwart
Fresh off a strong performance at the Triple Crown of Stand Up Paddle series in Hawaii, Bart de Zwart takes second place in this year's SUP Man of the Year award. Originally from Holland, Bart has lived in Haiku, Maui for 11 years, where owns the Kahana Kai Maui surf shop.
Bart recently completed a 300-mile SUP journey from the Big Island to Kauai where he paddled, unsupported, for 5 days at sea to traverse the length of the Hawaiian island chain. Training with Connor Baxter and living in Hawaii sure didn't hurt his chances at this year's SUP Man title. In the end, Bart takes a much deserved 2nd place amongst a tough field of competitors.
For the full story and all the photos, go here:
http://supconnect.mylocallineup.com/SUP-Other/sup-man-of-the-year-award-winners.html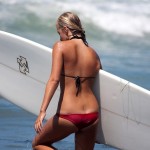 Become A Sponsor!
If you have a product or service that is a good fit for our surf community, we have opportunities for you to sponsor this blog!
Download our media kit now!