VIA – STAR NEWS ONLINE
Paddleboarders compete in Surf to Sound Challenge

Paddlers start the 4-mile Harbor Island Outer Loop Paddleboard race in Wrightsville Beach Saturday, November 18, 2011. The event was comprised of two races, a 6.5 mile elite race with an ocean start and a sound finish and the 4-mile Harbor Island Outer Loop intermediate race around Harbor Island. Proceeds benefited the non-profit group Friends of the Reserve. Photo by Matt Born
By Tom Grady
[email protected]
Published: Saturday, November 19, 2011 at 7:03 p.m.
Last Modified: Saturday, November 19, 2011 at 7:03 p.m.
The Blockade Runner Beach Resort played host Saturday morning to the North Carolina Surf to Sound Challenge at Wrightsville Beach.
The standup paddleboarding competition is sanctioned by the World Paddle Association and organized by the Wrightsville Beach Paddle Club.
More than 100 competitors paddled in the Elite (men's 14-foot board and women's 12-foot-6) and Intermediate divisions. The Elite course extended 6.5 miles – including a trek through Masonboro Inlet.
The morning also included about nine kids in a 12-and-under division.
"We knew we wanted to build a race that we could kind of close the season with, and November fit," said race organizer Jason St. Clair, the director of sales and marketing for the Blockade-Runner.
St. Clair noted the sport and has evolved of late, as its popularity has increased. And he called Wrightsville Beach a "destination for paddleboarding."
"There's a lot Wrightsville Beach has to offer for the paddleboarding community," he said. "Taking advantage of the fact that we do have the surf start and the sound finish and you've got all of the wonderful flat water. You've got all of the marsh lands in the back and the Intracoastal Waterway."
Proceeds from the event benefit the preservation of Masonboro Island through the Friends of the Reserve organization.
Larry Cain won the men's Elite race (1 hour, 11:09 minutes) and Kate Lewis (1:32:44) of New Bern took top honors in the women's Elite field. In the Elite Masters 50+ division, it was Wilmington's William Pope paddling in first at 1:31:14…
For the full story go here: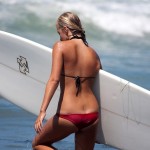 Become A Sponsor!
If you have a product or service that is a good fit for our surf community, we have opportunities for you to sponsor this blog!
Download our media kit now!